My apricots will be very big this year.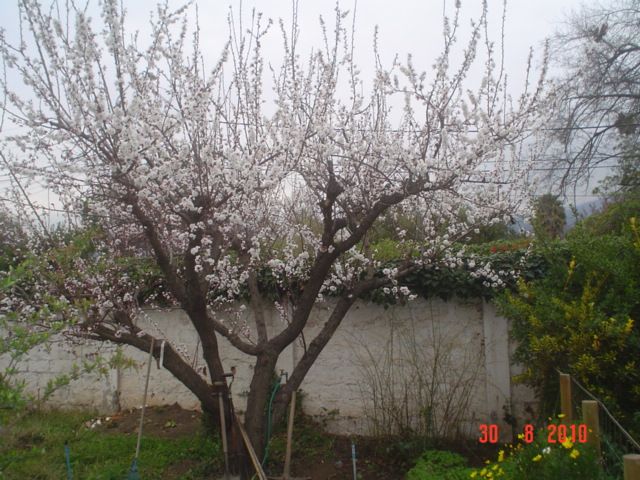 Chile
November 8, 2016 2:35pm CST
Last year I had the apricot tree pruned. I read everywhere that apricot trees should not be pruned. But I could not reach the upper branches and my friends are getting old too. So I said, que sera, sera. And this year the amount and size of the apricots is incredible. I did not take a picture of the apricot tree in bloom because I have several such pictures. But the tree is a wonder. I´m looking forward for my Christmas presents to everyone. I already have the recycled jars that I have been collecting from all my friends and family. I placed an old picture of my tree.
7 responses

• United States
8 Nov
Your tree looks beautiful. Enjoy your apricots.

• Chile
8 Nov
It is! We planted it with my husband over 25 years ago.

• United States
8 Nov

• Chile
8 Nov
@infatuatedbby
Many "experts" have told me to cut it. But my grandsons forbid me to do it as they all learned to climb trees here.


• Philippines
9 Nov
I haven't seen an apricot tree in person. But I am a big fan of apricot facial scrubs hehehe. =)

• Chile
9 Nov
Nowe you can see mine. That tree is in bloom, around august I think.

• Philippines
9 Nov
@marguicha
it reminds me of cherry blossoms tree, beautiful!

• Bunbury, Australia
9 Nov
I guess the tree is putting all its energies into less fruit. Or maybe you scared it into thinking you were going to cut it down. :)

• Chile
9 Nov
It has a lot of fruit, but the branches are smaller.

• Charlotte, North Carolina
9 Nov
Your tree look beautiful. Hope you get all the apricots you need.

• United States
8 Nov
How wonderful to have that tree!!! So glad to hear you have plenty of apricots this season.

• Chile
8 Nov
They will be glorious! I can´t wait for them to get ripe as I don´t like to be making jams the day before Christmas.

• Ciudad De Mexico, Mexico
8 Nov
That is a big apricot tree. It must make a good shade when in full bloom

• Chile
8 Nov
It does. I was remembering after I posted this and my eldest daughter (age 26) played under the shadow of this apricot when it was a young tree.