Donald Trump elected as the new president of United States...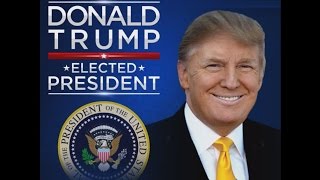 United States
6 responses

• United States
9 Nov 16
I thought it long ago. I was not shocked.


• Roseburg, Oregon
9 Nov 16
Yes Donald Trump wins and now we can hope that the changes will be good.

• Guangzhou, China
18 Jan 17
According to what I watched from TV or via the net, it seems that many people don't like Donald Trump. It is strange how he could win it if so many people disagree to him. I think perhaps the media made a wrong news to us and just showed us the people who didn't like Donald Trump. It is fair that they also have to show us the news that the people who like him. In fact I like him rather than Hillary because I read more negative news about her. Donald Trump seems to be less evil


• Australia
9 Nov 16
Tens of millions of voters that elected Mr. Trump will hold him accountable and trustworthy. Elected President Donald Trump will act on his winning changes for and with America. Well done, U.S.A. ! God bless America!