do songs make you cry?

United States
2 responses

• United States
26 Nov 06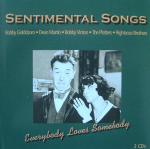 Yes sentimental songs make me cry. And if these are both romantic and sentimental then I will surely cry.:) What about you. You did not say if you do. Thank you fo the discussion topic. It is quite interesting.

• United States
19 Dec 06
Yes there are cerin songs that will make me cry. Usually they are songs that remind me of a particular time of my life or of a particular person that I am currently missing.