Their Dogs Made Me Appreciate My Dogs That Much More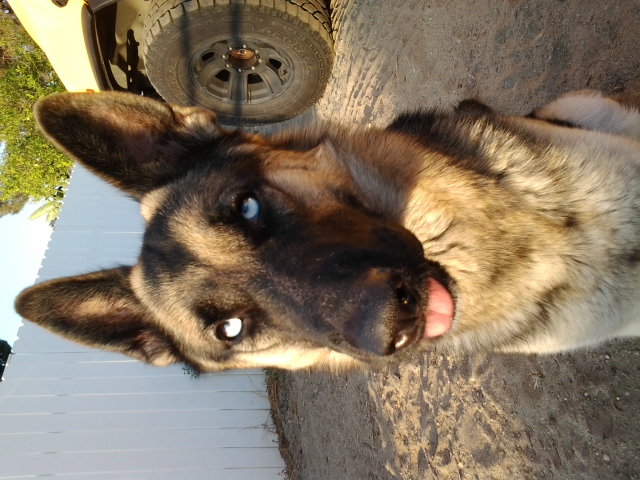 Redlands, California
November 15, 2016 6:07am CST
Not sure as to why? They are smaller. Nothing wrong with smaller. I am smaller and Brooklyn is smaller compared to the dogs we usully have. Just something about how Brooklyn sleeps on my couch and Kai sleeps on my bed. Not in my spot either, only when Brooklyn slept there does she want to sleep there. Just when I get up to go get something. Kai wakes up and those blue eyes on a German Shepherd who is not supposed to have blue eyes. It is look how much bigger she is than their dogs. So intimidating looking. Nicest dog in the world, much better than Tristan. Great thing about her is I can trust her around people. Tristan, just knew evil thoughts or looks and he was having none of it. It is not always good to be muscle. You have to show the world a better way, but make no mistake she is every bit the protector he was. Her none stop ability to have to bark at everything makes you know she is alert and have already seen her chase coyotes and cars to protect her family.. Love my Dawgs.
3 responses


• Redlands, California
15 Nov 16
Thanks, I aways like when you comment. Makes me feel like I did something honorable or worthy. lol

• United Kingdom
15 Nov 16
@crossbones27
What a nice thing to say, thank you. I'm not commenting too much at the moment as I'm on holiday, but I'm popping in occasionally.


• Redlands, California
15 Nov 16
@jaboUK
I hear you enjoy yourself and always love people who take the time.

• United States
15 Nov 16
Kai is a wonderful pup! Her eyes are magnificent. She is also a good protector. Thank goodness for dogs!

• Redlands, California
15 Nov 16
Thanks she has a lovely personality and really do wish we got her as a puppy. People say you saved a life or whatever but you can tell she is scarred compared to what Tristan was. Some say that is good because she is better around people, actually that would always make me wonder. Tristan was balanced Kai could just snap. I do not think she will but when dogs get older and people do goofey things. I noticed Kai still does things because she thinks she will be abandoned and it is the saddest thing in the world.

• United States
15 Nov 16
@crossbones27
Oh, poor Kai. Well, you are her protector and can make her life as comfortable as possible. Has to break your heart when Kai acts as if she may be abandoned.

• Greencastle, Indiana
15 Nov 16
AWESOME blue eyes I have to say, but that's a mans BEST friend no matter what I know I have 7 dogs that I tend to & it sure is nice when I'm so protected & loved & needed like they are for me I just wish people were the same way & learned from our animals. WOULDN'T THAT be NICE for a change?

• Redlands, California
15 Nov 16
It would because they have the heart of a lion but see the world as a child. Meaning, they see it as you present it to them, not that they do not do bad things but because they have to.