Demonitization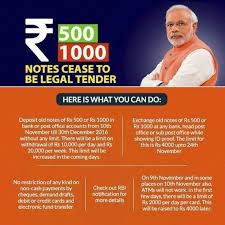 Pune, India
November 21, 2016 1:41pm CST
On Nov 8th at 8 PM , The Prime Minister of India, Narendra Modi announced that Rs 500 and Rs 1000 will not be effective anymore after midnight 12:00. Since then, the country has gone through a significant transition or we can say that it has been a revolutionary movement in terms of its scale and impact to common people. The intention is that the black money will be exposed and will be ineffective and will boost Indian economy. There are majority of people and economists who have applauded this great step and there has been severe criticism too as it has cause inconvenience in day to day life of common people due to non availability of money currency. I feel that this move is great as some harsh steps were required to solve the problem of black money. However, the pain the common people is taking up also cannot be overlooked and people deserved a better handling on notes crunch issues. In longer run, will this be one of the best moves of Government?
3 responses

• Italy
21 Nov 16
I don't see how the ban of 500 and 1k notes can be useful if they later implement the 2k ones.

I'm surprised to see how fast the process was, over one billion of inhabitants and not a lot of time for each of them to change their cash. I'm not sure about the exact amount of time, but it looked short. I also wonder how long it took to the Prime Minister to think of this move.



• India
21 Nov 16
@sabtraversa
the banning and bringing in new ones...is what I meant

• Pune, India
21 Nov 16
@sabtraversa
People who do not use cards and net banking are really finding it very tough to meet daily life needs. These are testing times for sure.

• Cochin, India
22 Nov 16
There are news about exposing the black money of terrorism, hawala . But it is a fact that there are more pain to the common man. If I go to a Gas station with new 2000 note.There are no changes or balance . Same thing in groceries and market.

• Pune, India
22 Nov 16
I agree, infact they should have got new 500 rs note first and then the Rs 2000 note. The new rs 2000 note is not helping anyways in groceries or dairy or day to day life. Hopefully new 500 note will be out soon in a week's time. The question is people have taken pain and all inconvenience, but in the longer run, is it all worth it? If yes, we can still be positive but if no, then it would be marked as the most unsuccessful move by Government for long time.