The November Evening My Dad had Tears in His Eyes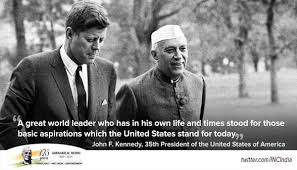 November 28, 2016 9:41pm CST
Most in our country must have forgotten him, perhaps also in the USA he is a distant half -forgotten memory. I cherish his smiling image walking with Jawaharlal Nehru, the first Prime Minister of India.That November evening my dad was reading the newspaper. At one moment he put aside the paper and sighed," What a sad news!" He had tears in his eyes. To know what had made him so sad I read the news story myself. It was the news story of the assassination of John F.Kennedy. Then I cried too! We know, people have changed and times have changed in America but tell me friends, do you remember Jack Kennedy?
2 responses

• Bunbury, Australia
29 Nov 16
I"m sure most Americans would remember John F Kennedy. He was a very charismatic figure.

• Philippines
29 Nov 16
I guess people from everywhere knows John F. Kennedy , during his short term . I don't know how old i am , but all i know is that i was so shocked and angry and lonely . Shocked that he was assassinated , angry at the one who did that and lonely that a young President was killed .