I can watch Japanese TV now.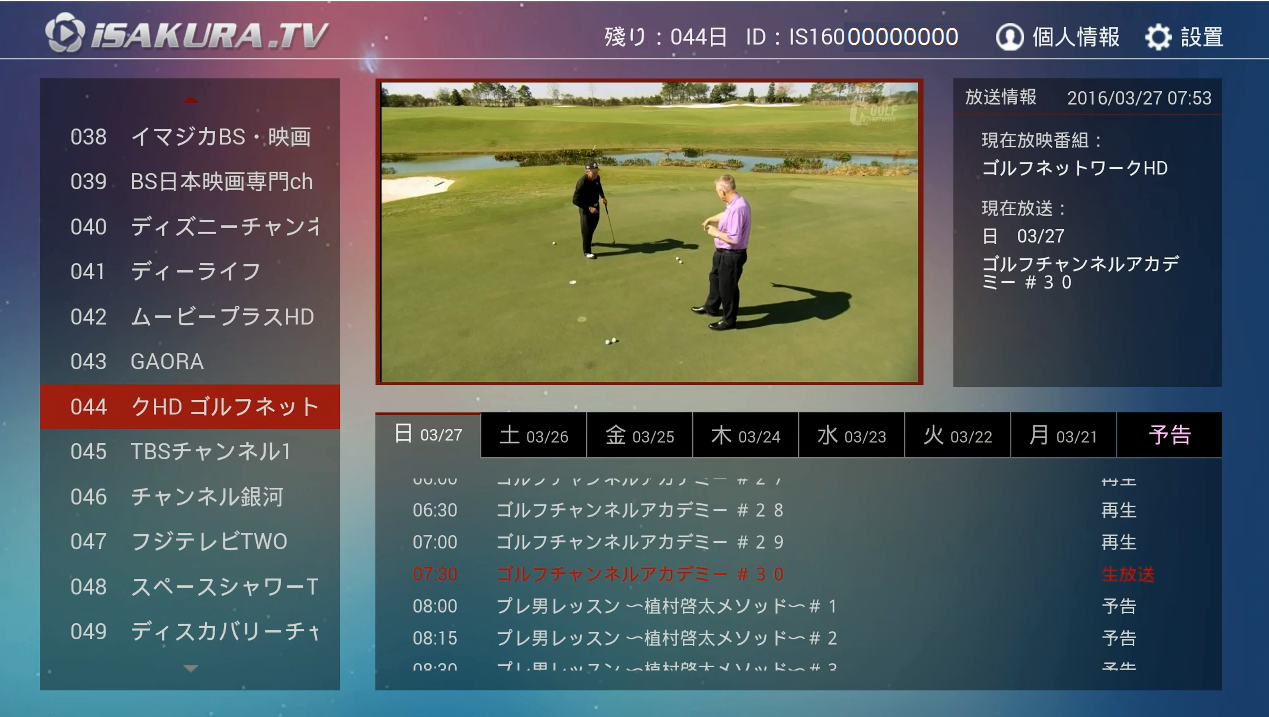 Lubbock, Texas
December 6, 2016 3:20pm CST
Ever since I got in to the whole XBMC/Kodi thing I have been trying to find a good IPTV (Internet Protocol television) that has Japanese stations and well that offered it for free. Over the last few years I have tried a lot of the free IPTV services and the all had there pros and cons and like every thing that is streamed online channels come and go or don't work at all. Some had Japanese stations but not the ones I'm looking for. So today I did some digging around and came across a site that offers a few different Japanese IPTV services (japannettv.com). Did a little more digging to find out how well there services where. Took a chance on one of there services/apps called iSakura. Saw that they offered a 3 day test for $4 and a 7 day option for $7. I went with the 7 day option so I can play around with it a little longer. They offer 1,3 and 6 month deals and a 1 year deal. The reason I chose iSakura over the other IPTV services was because I saw one channel I was looking for as I looked at there channels list on there web site. Fighting TV Samurai. Fighting TV Samurai is a sports channel that shows a lot of Pro Wrestling and that has been my end game when looking for a Japanese IPTV service. After getting every thing set up on my Android box I went through the channels to see what they had to offer and the quality of the streams. Come to find out there are a few channels that I knew of that have or at one point had pro wrestling shown on there station. So that was more of a plus for me. Now the quality is great. Like HD tv great and out of the 74 channels offered 2 or 3 where not working, maybe down at this time...I don't know. The streaming is great as well, only a slight buffering as it loads the channels up. It all so has a 7 day DVR type thing. So I can go back 7 days and watch what ever was on those days. I wish I understood Japanese where I could watch tv shows, but for my wrestling end of things this has been great so far. After the 7 days is up I have to sit down and ask my self if $30 a month or even if $240 for a year is worth it for a hand few of channels that show wrestling and maybe for some game shows. Right now I am thinking I might go with the $30 a month but I might change my mind after the 7 days is up. Then again It all depends on my money as well. If you are a wrestling fan getting in to Japanese wrestling or a Japanese wrestling fan that want's to watch the shows that air on tv then give this a shot. (the image is of the iSakura guide screen, the video does go full screen)
2 responses

• Calgary, Alberta
7 Dec 16
Japanese wrestling is more Brutal than American Pro-wrestling. The wrestlers bleed, the kicks on the head have sounds and they allow men attack women vice versa. Anime is my favorite Japanese medium but I did watched some live action Japanese shows too. I liked a Japanese Drama titled Massan which is the true story of a Scottish woman who married a Japanese man in the 1920's. They managed to find a White actress who can speak Japanese and speak English with a Scottish Accent.

• Lubbock, Texas
7 Dec 16
@CaptAlbertWhisker
I would't say brutal, out side of the hardcore wrestling...I think it is a lot stiffer then the American counter part. Then again the brutal hardcore style brought me in to the world of Japanese wrestling. You know I can not recall ever seeing any man vs. woman stuff from the big 2 in Japan, New Japan and All Japan, might have seen a few men vs. women from some of the smaller indy Japanese companies. Any thing Japanese I like is thanks to Anime. After I watched my first anime I had to find more stuff I enjoyed watching here in America and find it's Japanese counter part. Huge fan of the Japanese movies. I know there have been a few shows I have enjoyed as well. I'll have to see if I can find Massan and check that out. What animes are you in to?

• Calgary, Alberta
8 Dec 16
@TigerMask81
I most watch Shounen and Seinen, you know the violent or action ones marketed to men and boys like the Dragonball Franchise. I am currently following Jojo's Bizaare adventure, Full Metal Alchemist and For the old classic ones, I like Daimos, Voltest V and Macross. I did watched some Anime for girls and women like Sailormoon, His and Hers circumstances, School Rumble and even a romance one like Georgie.

• Philippines
7 Dec 16
'Fighting TV Samurai is a sports channel that shows a lot of Pro Wrestling and that has been my end game when looking for a Japanese IPTV service.' Thanks for this information. I'll be looking if Fighting TV Samurai is available locally.