Woke up from an idea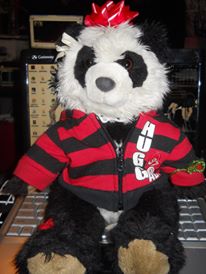 Peoria, Arizona
December 14, 2016 6:54am CST
The best time to think of anything creative is when you are trying to sleep or in the shower. This time the idea came to me while I was still trying to sleep and my brain just would not let me. It is an idea that I had for a while, it has been something I have been wanting to do for a while. I always wanted to make a little animated series about my panda bear stuffie, Mikey. If you don't know Mikey, phss you have been missing out. Anyway, everyone who has actually met Mikey, they all say the same thing, it is like he is real, it is like he is a person. No joke, teachers have even said this and talked to him as if he was a person that could hear and respond. They were not treating me like a child, I was 16 when I would bring him to school, (I would bring him during spirit week, on pajama day) and everyone adored him. So I guess I shall be working on an animation today of Mikey, or at least the storyboard of it. I don't know when this video will come out, but it would be a good way to start up my youtube channel again for the new year. Ahh I am excited, not excited that I will have to work on Windows Movie Maker, but oh well.
5 responses


• Italy
14 Dec 16
You can be really creative!

And yes, I get so many ideas when I'm supposed to sleep. Most are dumb though.

Then I know there's a huge difference between planning and actually doing it, hopefully you'll be steady enough. It often takes me a few hours to (rage)quit projects.

Maybe Windows Movie Maker won't be that boring, it's fun to learn and find out how to do new stuff. Then yeah, things get mechanical but there you play some background music to keep on working.


• Peoria, Arizona
14 Dec 16
I like being creative haha and I know how to use Movie maker, it is just terrible for animation, makes things choppy but it is the only thing that works on this computer haha

• Italy
14 Dec 16
@DesirousDreamer
How choppy?

Looking forward watching it then.



• Peoria, Arizona
14 Dec 16
Thank you, I hope it does haha!

• Peoria, Arizona
14 Dec 16
Haha, that is when I am normally really emotional and wondering why I exist in the world.

• Boise, Idaho
15 Dec 16
I await your genius work out come.