Friend or foe?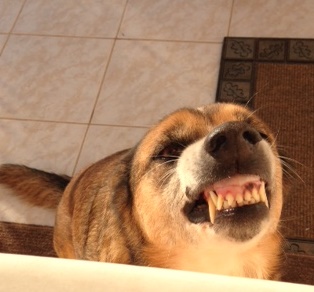 Greece
December 22, 2016 6:52am CST
This dog may well be judged as ferocious, as she looks at me through the window. It is not only books that should not be judged by their covers, neither should dogs. This one, my Elsa, is greeting me. This is only half a smile, the full smile has a wrinkled nose as well, she looks as though she is about to bite. I have seen a couple of dogs display like this as a form of greeting but only since I came to Greece. Is it common to other dogs as well? On one occasion I had to take her to the vet. It was full of pedigree dogs. Only Elsa was a commoner. She walked around slowly 'smiling; at everyone. Fortunately they knew dogs well enough to realise that she was being friendly.
10 responses


• Jacksonville, Florida
22 Dec 16
@MALUSE
I totally agree with you! When my dog shows her teeth she is not a happy camper-she's angry!

• Greece
22 Dec 16
@LadyDuck
Perhaps this is just a Greek dog thing....?


• Jacksonville, Florida
22 Dec 16
I would think this dog is at least on the angry side. My dog looks this way when she's mad or when she's playing with a toy-she thinks she looks scary and we will give her the rope. Lol.

• Greece
22 Dec 16
Not in the least angry, she smiles at some of our visitors too, the ones she knows. It isn't just the face, the rest of the body language counts too, her hair does not rise and she does not make any sound at all. Not even a hint of a growl.

• Jacksonville, Florida
22 Dec 16
@41CombedaleRoad
Your right the no noise would make a difference. My dog does growl when she shows her teeth.

• United States
22 Dec 16
Elsa is a hoot! That is quite a smile Elsa has. She loves to give a big toothy smile which means she is one happy pup!!!

• Greece
22 Dec 16
I guess you know dogs very well and Elsa would give you a smile too if she could.

• United States
22 Dec 16
@41CombedaleRoad
I would love to see Elsa's smile up close and personal!! Molly has a different smile than Elsa, but when I walk her and she is has having a great time, she will look back and smile at me as we walk. It is a smile that says, "Aren't we having fun, Mom?"


• Greece
22 Dec 16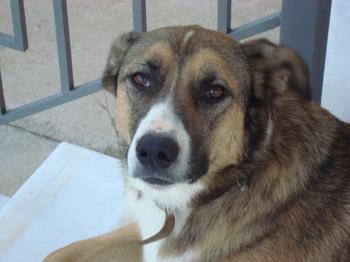 In Elsa's defence - she is a loving dog. I'm going to try to add another photo of her to convince you.

• United States
23 Dec 16
used to've a pup who smiled more oft'n not, used to freak folks out :) the pup that's my near constant companion smiles when she's anxious - when she's been left 'hind here 't the house.


• El Paso, Texas
22 Dec 16
Yes, I've seen a few dogs to that and it's comical if you understand dog behavior. Sadly, too many people only know what little they've seen the more vicious types do and attribute any kind of behavior like this as vicious. It's a shame they're the ones who others look to for dog advice.