David's Tree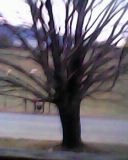 Boone, North Carolina
December 28, 2016 5:18am CST
One of my dear friends planted this tree when he was just 8 years old. Now it's a grand tree with wide reaching branches & a strong stout trunk. My BFF & I were trying to decide what kind of tree it is - maple? oak? it can be harder to tell in the winter with all the leaves gone. After some debate - we decided that it was a unique tree - having survived wind quells & snow storms when neighboring trees lost root, therefore - it was and is - simply a "David Tree" Like this tree - David is unique - he has had some tough years but no matter how strong the wind - David was stronger & more flexible. A quiet friend with deep thoughts - who is there when you need him - even without asking. He just seems to know when we need a friend and is there. A strong silent tower of strength willing to shade you when you need it - stepping back when you want to stand alone. David - like his tree - is one of a kind. Sometimes, platonic love is actually platinum.
7 responses

• United Kingdom
28 Dec 16
We all need a friend like David, how lovely that you think so highly of him.

• Boone, North Carolina
28 Dec 16
@mymoneycottage
Yes - I am very fortunate indeed! And he'd be horrified if he found out I'd told - not shy - just very humble.


• Boone, North Carolina
28 Dec 16

• Bunbury, Australia
28 Dec 16
A friend like David needs to be cherished - just as this tree does. :)


• India
29 Dec 16
David must feel happy that you have named the tree after him. Once it starts foliating perhaps you will know what tree it is.

• Green Bay, Wisconsin
28 Dec 16
That's a wonderful friend and a great description using the tree. Good looking tree as well.

• Charlotte, North Carolina
28 Dec 16
That is a great expression about platonic love. It should be in a greeting card!