Daily Bible Study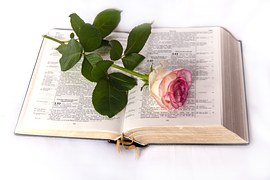 Green Bay, Wisconsin
January 1, 2017 5:52am CST
Day 115 Proverbs 15:16 Proverbs 15:16 Better is little with the fear of the LORD than great treasure and trouble therewith. 17 Better is a dinner of herbs where love is, than a stalled ox and hatred therewith. Everyone wants the better things in life, but what are they? Are they a nice home, a car in the garage, well-behaved children, a six-figure income, and a place in society? Solomon showed it was none of the above. Instead the better things in life consisted of trusting the Lord and love. When you trust God, and love your fellowman, you need nothing else. God told Moses the formulae for having the better life. Deuteronomy 6:5 And thou shalt love the LORD thy God with all thine heart, and with all thy soul, and with all thy might. (KJV) Leviticus 19:18 Thou shalt not avenge, nor bear any grudge against the children of thy people, but thou shalt love thy neighbor as thyself: I am the LORD. Jesus put the two together and said they were the greatest commandments. Matthew 22:37 Jesus said unto him, Thou shalt love the Lord thy God with all thy heart, and with all thy soul, and with all thy mind. 38 This is the first and great commandment. 39 And the second is like unto it, Thou shalt love thy neighbor as thyself. (KJV) When you follow this simple formula, you will have the better things in life. God will take care of all your needs and you might even get a few desires thrown in as well. Psalm 37:3 Trust in the LORD, and do good; so shalt thou dwell in the land, and verily thou shalt be fed. 4 Delight thyself also in the LORD; and he shall give thee the desires of thine heart. 5 Commit thy way unto the LORD; trust also in him; and he shall bring it to pass. 6 And he shall bring forth thy righteousness as the light, and thy judgment as the noonday. (KJV) As Christians, when you put God first, trusting him to take care of you, you will have all you need for this life. Mark 10:28 Then Peter began to say unto him, Lo, we have left all, and have followed thee. 29 And Jesus answered and said, Verily I say unto you, There is no man that hath left house, or brethren, or sisters, or father, or mother, or wife, or children, or lands, for my sake, and the gospel's, 30 But he shall receive a hundredfold now in this time, houses, and brethren, and sisters, and mothers, and children, and lands, with persecutions; and in the world to come eternal life. You have no guarantee in this life that you will not have any trouble. In fact, it is a guarantee you will, because Satan doesn't like it when things go well for you. However, when you love God and love your neighbor, God will take care of the rest. Philippians 4:19 But my God shall supply all your need according to his riches in glory by Christ Jesus. (KJV) Solomon knew the simple formula for life, but even he had trouble following it. However, he did return to God and gave us his wisdom in what he learned. It is up to us to follow his wisdom and put God first in our lives, and God will do the rest. Let love guide your actions, and you will have the better things in life. Let's pray: Father, help me follow your formula for the better life, loving you and loving my neighbor. In Jesus' name, I pray, amen. Copyright © 1 January 2017 by Valerie Routhieaux Image courtesy of Pixabay
4 responses

• Ireland
1 Jan 17
I think the word "fear" is what confused me for many many years

• Green Bay, Wisconsin
2 Jan 17
It did me too until I learned it's Hebrew meaning.

• Ireland
2 Jan 17
@just4him
I think sometimes the linguistics of it all does get into the way. Like the other day, I learned "creed" meant something else in Greek. In that, it's a word that meant half of a broken object which, when placed together with the other half, verified the bearer's identity. So the Nicene Creed could be interpreted as a way to verify the reciter's identity, knowing this context give the creed itself a deeper meaning. so the "I believe in one God, the Father Almighty, Maker of all things visible and invisible.." is no longer just a passage we recite, but it becomes part of our spiritual identity

• Green Bay, Wisconsin
2 Jan 17
@Drosophila
Wow! I didn't know that, and yes, it does make a big difference to how something is interpreted. Thank you so much for teaching me.





• Green Bay, Wisconsin
2 Jan 17
Just think about Jesus. He came under a lot of condemnation with everything he did, yet he was able to say from the cross that he forgave them, which takes a lot of love to do that. It's not easy, but if you work on it, you will be able to love the unlovable.

• Roseburg, Oregon
2 Jan 17
The better things in life is just having what you need. Being happy with what you have is what God wants for you.

• Green Bay, Wisconsin
2 Jan 17
True. I want what God wants for me.

• Philippines
1 Jan 17
You know I didn't go to church during the Sunday of the new year, So thank you for sharing this.

• Green Bay, Wisconsin
2 Jan 17
I'm glad you enjoyed the study.