What I have ?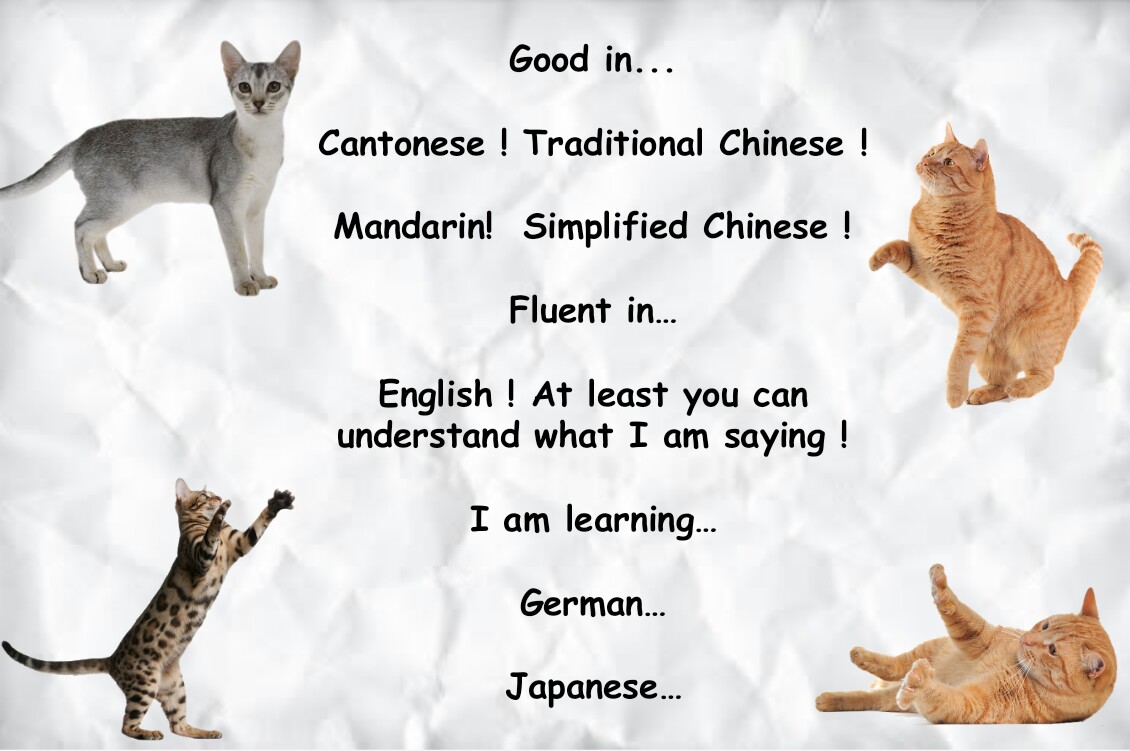 Malaysia
January 4, 2017 2:46pm CST
I am Chinese which is mother tongue in Cantonese but study in Mandarin. Great in Hong Kong style Cantonese , Taiwan and China Mandarin. Lucky I am fluent in English, but sometimes lack of grammar... But now, I am learning Japanese and German too. Without the relevant languages environment is quite painful to learn fast. But I will try best. I like to create something funny in my profile. Hope you can understand from my artwork!
4 responses

•
4 Jan 17
I think German is so difficult.

• Malaysia
4 Jan 17
Ya totally! Yet still wording in ABC, so is manageable. But Japanese...

That's really killing! Event the keyboard need to change totally only can manage to typing .....

•
4 Jan 17

• Malaysia
4 Jan 17
@TheInvisibleMan
ya it's real. And there have many type of Japanese. I am learning by some app, honestly.... I can speak and read some Japanese now. But too slow on schedule. The phone so not have the Japanese keyboard too...



• Bunbury, Australia
5 Jan 17
I think your artwork is lovely. I really only speak English although I know a little French and German. I am in awe of your language skills.

• Malaysia
5 Jan 17
Thanks for comment! But French is difficult.... All time I can only?????

• Italy
4 Jan 17
The picture is really cute.

It won't be easy to learn two difficult languages at the same time, at least they're very different from each other and hopefully you won't get confused by them.

Japanese would never be a language I'm interested in learning, I would have to enjoy manga and anime, that's what makes many people want to learn this language, I think.

I wished I could learn German at school, but I ended up studying a little of Spanish. Then I left that school. So, why do you want to learn these two languages?


• Malaysia
4 Jan 17
Hahaha! That's right! It is confusing! But my job need..... That's why I learn. Need to use on responding some email or phone. So....


•
13 Apr
@Viexin1881
I love your sign. Are any of the cats yours or pictures you found? You did a really good job with the sign.