Think two of my babies are trying to tell me something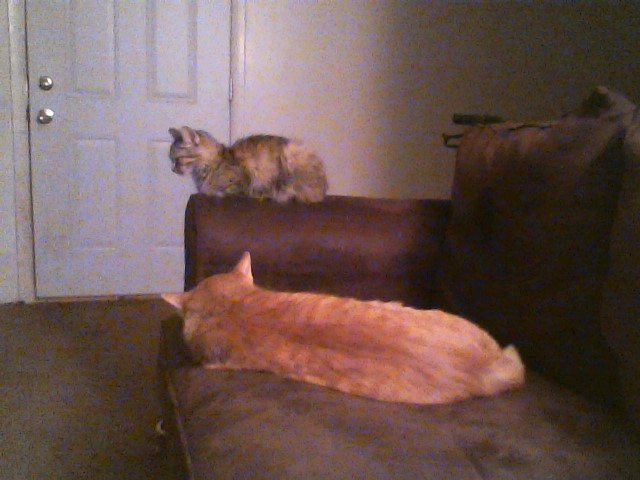 January 8, 2017 12:18am CST
These are two of my kitties Garfield and Jerri the third is peaches she is almost impossible to get a picture of. I think they are trying to tell me it's time for bed,lol. It's almost 1:30 in the morning here and I'll probably be up for another couple of hours so I guess they'll have to stay there snoozing till then,lol.
6 responses

•
8 Jan 17
Cats are funny little things. Our Maine Coone, Lycan, is the weirdest cat I've ever met. He acts just like a dog. He sits for treats, plays like a dog, and even drools! He'll yell at you until he gets cuddles, and then will want nothing to do with you. Maybe you should listen to yours, though. Cats are the experts at napping.And think about this, the better your sleep habits, the more time you'll get to spend playing with your fur babies.

•
8 Jan 17
That's funny is he vocal too Both of these two carrying on such that you can almost make out words they are saying,lol. It's never boring with them around that for sure,lol.

•
8 Jan 17
@AutumnSnow
this might be the funniest video of a cat yelling i've seen in a while ( I love when they talk lol

Boom Boom Boom Let Me Hear You Say Wayo - Cat

•
8 Jan 17
@taibhsi
OMG!! that's too funny yup definitely sounds like mine. My Garfield has learned the word A&& and carries whenever he's mad at dad for being late,lol.


• Oxford, England
8 Jan 17
Cute kitties Mine is upset. I took the duvet off the sofa and uostairs to bed. She has yet to realise the electric blanket is on there.

•
8 Jan 17
Uhoh it's funny how particular they can become a lot like us human. Jerri the little one in the picture got mad last week I have a throw for my recliner that she likes to lay on and it was in the wash she was not happy,lol.

• Oxford, England
8 Jan 17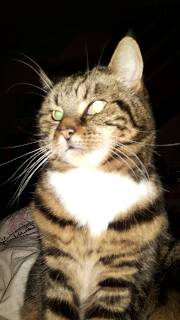 • New Delhi, India
8 Jan 17
This is so sweet of them How many cats do you have?

• New Delhi, India
8 Jan 17

•
8 Jan 17
I love the name "Garfield" ... it reminds me of a cartoon which i used to watch during my childhood :) that cartoon was also about cats

•
8 Jan 17
My Garfield acts just like the Garfield on the cartoons,lol.

•
8 Jan 17

• India
8 Jan 17
It looks like they are. Pets know it when odd things happen around (lol)