Does fortune favors only the brave?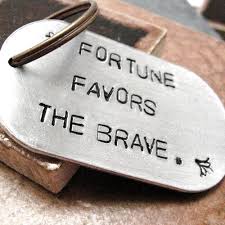 Macedonia
January 9, 2017 3:35pm CST
Only if you encounter the opstacles life throws at you with courage you can achieve great things. People seem to forgot this and blame luck for their failures. I can remember many situations when chance smiles at people and they dont grab the oppurtunity simply because they are scared to act and what people will think if they fail.. Opportunities doesnt happen every day be prepared to grab it
5 responses

• United States
9 Jan 17
Yes, we shouldn't let opportunity escape us.

•
10 Jan 17
I have to add, fortune favors the brave and the hardworking ones.

• Malaysia
10 Jan 17
The brave and the patient ones, too. Fortunes can come your way at the most unexpected times.

• Glen Dale, West Virginia
10 Jan 17
Cognitive Dissonance is a pretty strong coping mechanism. I live by the whole "what you think about you bring about" thing.

•
11 Mar 17
Sometime they grab opportunity and scene goes wrong. Life is a predetermined paradox which cannot be changed. The only thing we can do is experience it, spread love, forgive others try to let go and live with it and you will get happiness which has no price.