This man has gone crazy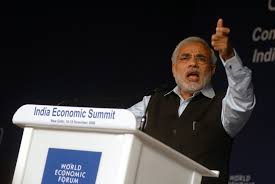 India
January 12, 2017 9:03pm CST
All Indians and even many foreigners know the role Mahatma Gandhi played in promoting Khadi in India. Mahatma Gandhi was always a mascot for the Khadi Village Industries calendar. This has now been replaced by none other than our Prime Minister, Narendra Modi - a megalomaniac. Looks like he is on his way out, hopefully. You can read more about this here: goo.gl/ByL7vW
4 responses

• India
13 Jan 17
If mahatma gandhi promoted khadi, why it remained so low for so many years? Did you ever see the conditions of khadi stores? Dude, everything needs marketing, and Mr PM took khadi to new heights, no doubt about that.

• India
13 Jan 17
There is not much seen by way of sales increase. Just as any commodity sales invariably show increase in sales as years go by so has Khadi and it is only 6% as opposed to what the PM proclaims. He is hoodwinking the public because he knows no one is going to check his lies.

I had urged you all to buy some Khadi and I am happy the sales have increased so much. This is realisation of Jan Shakti: PM @narendramodi — PMO India (@PMOIndia) September 20, 2015   Prime Minister Narendra Modi mentioned, not once but twice, during his m

• India
13 Jan 17
@allknowing
I don't go about these surveys as i really don't trust any. But i know from personal experience that me, my family and many people i know, have surely started buying and using khadi much more than ever. And i don't need any other proof!


• India
13 Jan 17
@allknowing
You said it.I was wondering why no body was saying anything about his false claims.Megalomaniac aptly describes him.


• India
13 Jan 17
@allknowing
You are absolutely right.I am fed up seeing him on TV keeping on telling all those lies. There are people worshiping him I suppose. Attempt to bring out the true"Modi" by Rahul Gandhi is falling on deaf ears.Here in my state Modi does not have many supporters.

• India
13 Jan 17
@silvermist
He is making a mockery of himself by saying those things which those present there know what he says is not true. They are learned and knowledgeable. I only hope someone will sound him about these things. I feel embarrassed. After all he is our prime minister (l.ol)

• India
13 Jan 17
@allknowing
Every time he opens his mouth ,he is making a fool of himself. I am reminded of the story of the the boy who said"the emperor has no clothes" in a story.I am wondering about the party members surrounding him.


• Green Bay, Wisconsin
13 Jan 17
I certainly know about Mahatma Gandhi, but I don't know about Khadi or him being a mascot for anything.

• India
13 Jan 17
Khadi is a cloth hand spun or spun using handlooms.

• Green Bay, Wisconsin
14 Jan 17


• India
13 Jan 17
@syeow1
You can only write in English here. This comment may be deleted. Please write in English

• India
13 Jan 17