Birds are chirping; Morning is not far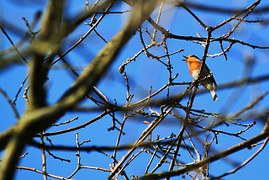 February 3, 2017 6:46pm CST
I hate a clock that keeps telling the time. I also dislike an alarm in the morning. Birds in my garden tell me that morning is near. I wake up to their sweet singing. It is spring now and more birds have come to the garden. There are cuckoos, nightingales, wild doves, mynahs, tuntunis (the little ones), and there are many whose names I don't know. Though in monetary terms I'm a pauper but I feel like a king among these words!They make me glad with their music. Tell me what gladdens you as you wake up.
3 responses

• Philippines
4 Feb 17
We also have that chirping of birds every morning


• Bunbury, Australia
4 Feb 17
Birds often waken us uup in the morning too. We have kookaburras and magpies mostly. Some of the bird noises I don't recognise although the whistlings are very pretty.