Unusual Valentine's Day Gift Idea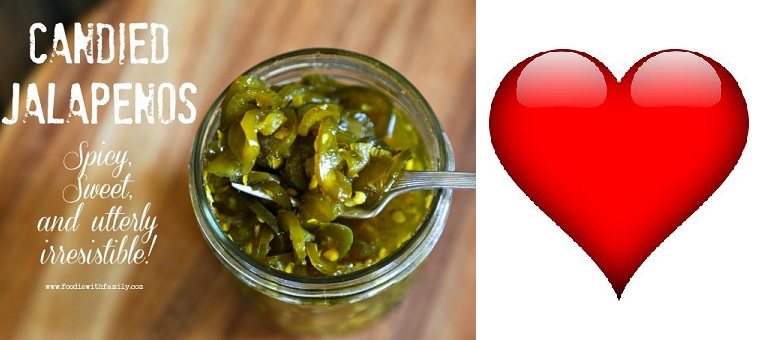 Austin, Texas
February 10, 2017 9:47pm CST
Only in Texas. Bet nobody else has ever heard of this as a gift for Valentine's Day. Heard an advertisement on my car radio. Most of the time the radio is just on for the noise. Apologies. Can't remember the advertiser. But I clearly remember the V-Day gift suggestions. For those in a committed and loyal relationship, the typical box of chocolates is recommended.


For the flaky significant others who don't want to make a commitment?
Candied Jalapeño peppers.



I didn't even know there was a such a thing. I went and looked up a recipe! They are on the shelf at our local grocery store here in Austin, Texas; although I never noticed them!


There aren't words that exist to describe how addictive these little savoury, sweet, spicy, crunchy, garlicky pickled jalapeno rounds are. Put them on sandwiches, tacos, rice or bake them into cornbread. You'll need more and more!
8 responses


• Austin, Texas
11 Feb
It's an acquired taste. You either like you or you don't. My husband hates anything sweet AND spicy. Has to be either sweet OR spicy (or hot).


• Davao, Philippines
11 Feb

• El Paso, Texas
11 Feb
Holy cow, I don't think anyone I know would wanna eat those, I love jalapenos like those stuffed with cheese or in a salsa ..... but Candied? Uhhh, nope, I don't think so.

• Austin, Texas
11 Feb
Lived in El Paso. Don't remember ever seeing or hearing about candied jalapenos when I was there.

• El Paso, Texas
11 Feb
You're right, I've been here 57 years and have never seen them but we do see the pricky pear jelly once in a while
@cmoneyspinner
do you have that in Austin?

• Austin, Texas
11 Feb
@rebelann
- I have heard of pricky pear jelly. But I've never seen it. How would you describe the flavor?


• Kakamega, Kenya
11 Feb
This is a great valentine gift. You have got lost from me my friend. I do not get you here

• Austin, Texas
11 Feb
You're from Africa. I'm sure you would love it!

In America, peppers is not the type of gift we would normally give for Valentine's Day.

• Kakamega, Kenya
11 Feb

• Austin, Texas
11 Feb
@stbrians
- I checked and my profile is till online. But I am not active there. My newest site for writing is Niume.

• China
11 Feb
It is a unique Valentine's Day Gift! Sounds like it tastes well.

• Austin, Texas
11 Feb
I have never tried it. But now that I know there is such a thing, my only question is: Should I buy a popular brand from the grocery store or dare to try to make my own? Life is full of so many tough decisions.




• China
12 Feb
@cmoneyspinner
You might as well have a go at making your own Candied Jalapeño peppers.

• Momence, Illinois
11 Feb
Yea doesn't sound like my cup of tea, but I love the For the flaky significant other comment way funny

• Austin, Texas
11 Feb
I thought it was funny when I heard it too!


• Charlotte, North Carolina
16 Feb
Candied Jalapenos is a new one on me! Not my taste, but we do know some who would love these.

• Austin, Texas
16 Feb
I also just found out about crispy jalapenos. I think I would love them both - either /or - on a salad.


• Austin, Texas
11 Feb
OK! I hope you like it!


• Bunbury, Australia
11 Feb
That sounds a bit 'out there'. :)

• Austin, Texas
11 Feb
I sure would have never connected peppers and Valentine's Day.