U.S. Citizens: Do you hate to pay ridiculous overdraft fees?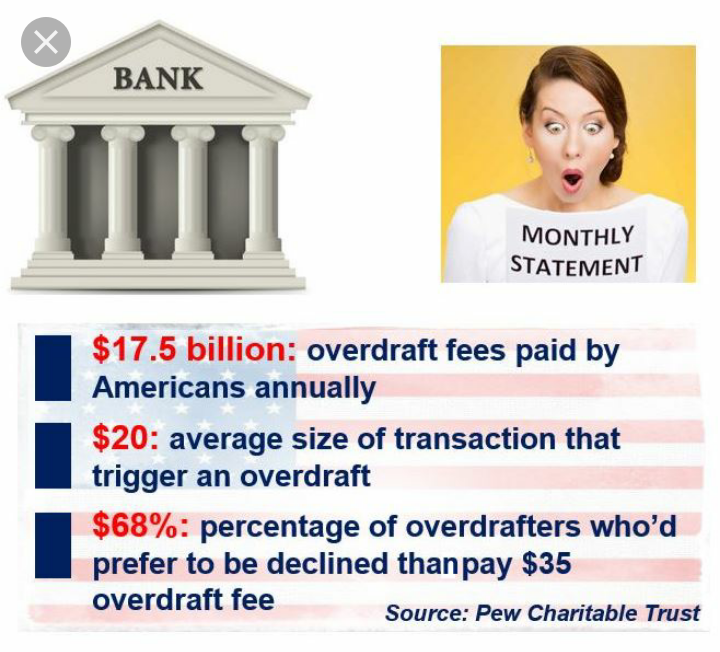 United States
February 18, 2017 1:42pm CST
The OVERDRAFT PROTECTION LAW limits the amount your bank can charge you for overdraft fees. This law is in the process to be eliminated, allowing banks to charge you more! Everyone makes mistakes occasionally! Accidentally spending more than you have in the bank happens. Tell President Trump & Congress not to change or repeal the OVERDRAFT PROTECTION LAW!
3 responses


• United States
18 Feb 17
In the meantime, we need to contact our Representatives and tell them to leave the Overdraft Protection Law alone!

• Pikeville, North Carolina
18 Feb 17

• United States
18 Feb 17
So much for having the interests of the American people at heart.


• Los Angeles, California
18 Feb 17
Why all the hubbub over overdraft fees? There's one simple way never to have an overdraft fee. Be financially responsible! It's a person's own fault for receiving an overdraft fee. And there's no excuse for an "occasional" mistake and you should always know better than to overspend and be aware of where you stand. Paying attention to financial affairs is a bit more important than the national Facebook mania. You can curse me all you want but being careless is no excuse.

• United States
18 Feb 17
@JohnRoberts
~While what you've said is partially true, people should be more careful and prevent getting charged overdraft fees , "To err is human" ~ people make mistakes. Besides, Banks have tricks to cause people to get overdraft fees, like not posting deposits right away. The real issue is the amount of freedom the Banking Industry wants to be able to set prices for all fees and the ability to create new ones without any oversite. I don't think that a bank should be able to charge me a fee to access my money. I'm doing them a favor by keeping money in their bank. That withdrawl fee is more important than ever now that banks plan to replace tellers with more ATM'S. Big Business knows that people will protest. They do these things one step at a time, hoping to wear us down.

• United States
18 Feb 17
@JohnRoberts
~Some day, in the near future, money won't be the primary motivation, objective or desire. With laws being passed making it legal for our water and air to get polluted, for example, the overturning the STREAM PROTECTION RULE. The coal industry is now legally allowed to dump coal ash into our water ways. Eliminating the EPA will make polluting our air and water even easier. Soon clean water will be more important and valuable than money.

• United States
18 Feb 17
@JohnRoberts
~First of all, I don't curse anyone, rather I prefer to discuss the issues. The way that things are going now, Republicans are passing laws in favor of the rich and making it harder on the poor. Eliminating or lowering the minimum wage for example, while continually raising prices would make it even harder for people to get by. Not everyone has the luxury of having extra money in the bank so that they don't have to worry about checks not getting covered. Many honest, hard working people are struggling from paycheck to paycheck. No one has any right to judge them.