This time, we all agreed.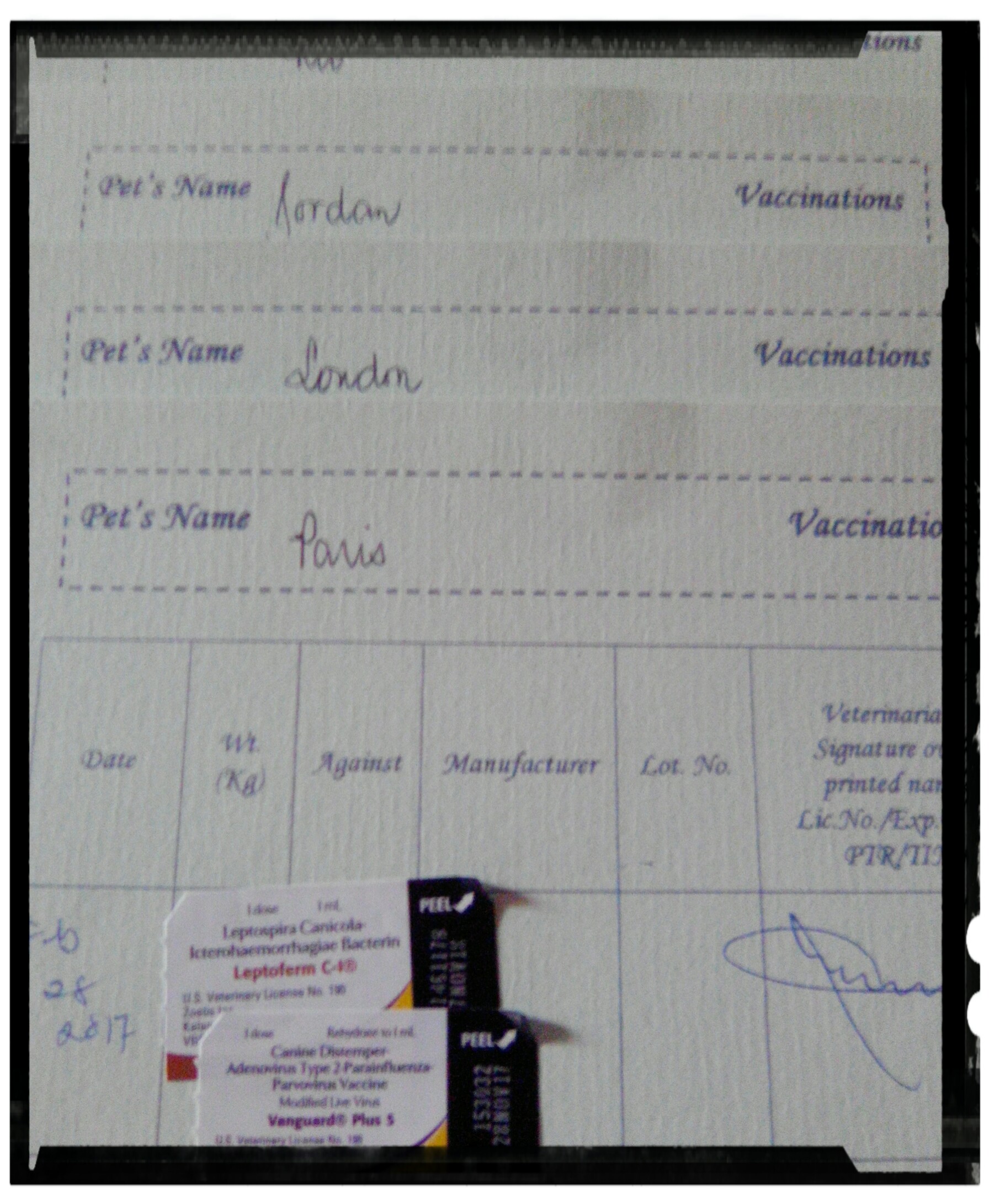 Philippines
February 28, 2017 12:11am CST
About the type of dog food that the puppies should take, after the veterinary doctor dropped by this morning to give the 5 in 1 immunization each of the 4 puppies. Dr. Arnel told us that the puppies are underweight with their age. Jordan, Rio, London, and Paris are more than 2 months young now (they were born last 19th of December) but they weigh at 1 kilogram each only. The doctor said at 2 months, the puppies should be big now. I told him their mother Macy sometimes does not offer her teats so the puppies can suckle. The vet also noticed that 2 of the puppies bear the Spitz features while the other 2 look like terriers which I agree. So now, the 3 of us agreed as suggested by the vet: I will still give them milk but with the milk, they will be fed with Pet1, in the form of pellets, and mixed with adult dog food. We were also instructed not to bathe the puppies because the vaccines should take effect first. I can't wait to see the puppies grow healthy, strong, and big. Do you feed your dogs with what you eat, aside from the dog feeds?
9 responses


• Philippines
28 Feb 17
no it is not wrong to feed our dogs with what we eat too. before, there were no dog food yet(like Pedigree), but now that we are in the jet-set age, even puppies are having their own food now. it makes their fur and bodies better and sturdier.

• Switzerland
28 Feb 17
@ridingbet
May be, very may be. Have you read this article?

Learn what can legally go into your dog's food and how the pet food industry has become a sinister waste disposal vehicle for many human food manufacturers.

• Philippines
1 Mar 17
@LadyDuck
no, i have not read that yet. i will check on that later after i am done with my notifications. thanks much my friend.


• Malaysia
28 Feb 17
I don't have dogs but I have cats, nine of them. Aside from dry cat foods, I occasionally give them milk that specifically for cats or dogs and wet cat food. That milk can be bought at pet store, vets or huge store. I read about pet grass, I want to try that as well.

• Philippines
28 Feb 17
oh, you mean you read it from
@brokenbee
's discussion about the cat grass? i think it is beneficial to the cats as attested by my friend.

• Malaysia
28 Feb 17
@ridingbet
yes and if it's something good to my cats, I'm willing to try. But you know with gardening skill, an easy task would be a very hard one. But we'll see.

• Philippines
2 Mar 17
@prinzcy
do you have the green thumb?can you grow a plant?


• Roseburg, Oregon
28 Feb 17
Are you going to keep all of those puppies or find good homes for them.

• Philippines
28 Feb 17
we are keeping the 4 puppies, my friend, even though 4 of my colleagues wanted them which i promised too; but my brother and my son disapprove of giving them out, so we will keep them. when our local mutt Trixie gives birth, i will definitely give away the puppies

• Guam
28 Feb 17
I'm sorry, I dont have dog right now.

• Philippines
2 Mar 17
Eversince the 2 tsih tzus at home have tasted the left-overs with rice given to them, they don't want dog foods anymore.


• Philippines
2 Mar 17
hahaha! we feed the pure bred Japanese Spitz with some rice and dog feeds, my lady. the Pomeranian eats rice now. the others are half-bred so we feed them with rice, and meat. a few minutes ago, the laundrywoman brought 6.1 kilos of saw dust from Monterey.my sister will cook these as the viand of our dogs

• Philippines
2 Mar 17
@ridingbet
So you see, these dogs really costs us a lot. In fact, we cook a lot because the 3 cups are for the dogs and they eat the same delicious rice as ours. Good thing , brother-in-law has his one sack of rice from the bank , monthly.

Saw dust? As in those from the cutting of woods?


• Philippines
3 Mar 17
@SIMPLYD
we buy the lowest grade kind of rice for the dogs, my lady. and i cook them. 2 cups is enough for lunch and supper. saw dust are bought from Monterey and these are the bony parts of swine with some meat yet in the bones. when my sister cooks them, they smell like the 'piccadillo' and can be eaten by us; they are edible. saw dust because the meat is 'sawed' from the bone, and dust, because they are the 'extra dust or pieces of meat'.

my brother gives saw dust, raw, to his Pomeranian Sydney.


• Philippines
28 Feb 17
Since we only have the local breed or what we call as "aspins", we just give them rice and fish for their meals. My mother buys them fish. We seldom give them commercial dog food. They were healthy that way, until... Hmmm

• Philippines
2 Mar 17
so, do you debone the fish you give them, hija? fresh or canned fish? our aspin Trixie is also fed with rice and meat (yesterday, the dish we don't eat was their viand-igado).

• Philippines
2 Mar 17
@ridingbet
No Ate.. We buy those small fish so the bones are still soft.

• Philippines
2 Mar 17
@brokenbee
oh, so the small ones? like the mori? the ayungin? and the ipon?


• Philippines
28 Feb 17
I don't have a pet dog but my mom does and the dog gets fed dog food and milk.

• Philippines
2 Mar 17
i wake up early every morning to prepare the food of the puppies and this is - 2 small cups of puppy food-pellets, and milk (Nido 3 plus). they eat noisily chomping the food.

• Philippines
2 Mar 17
@ridingbet
it seems those puppies are really part of your family! They are your children!

• Philippines
3 Mar 17
@allen0187
hahaha! yes indeed, i am their fur mother.



• Philippines
2 Mar 17
my late mother advised us before to give our dog Clinton some bok choy because it thickens the fur. Clinton loved it. Macy and Xander were also fed with this leafy vegetable, and their furs grew better and thicker. the puppies will be having their 2nd shot of immunization 2 weeks from now.

• United States
2 Mar 17
@ridingbet
I love how well you care for your dogs. My dog loved green beans, cucumbers, peppers, and tomatoes.

• Philippines
2 Mar 17
@DianneN
thank you. that is why i feel sorry and angry when i read posts on face book about the cruelty of other people with their dogs, and most of my anger goes to a certain place in China where they kill and slaughter dogs for their consumption. graphic images are posted, and it breaks my heart and i get misty looking at these pictures and reading the posts


• India
28 Feb 17
My maternal grandfather always feed through his meals also. I don't have dogs.

• Philippines
28 Feb 17
i think it is okay as long as we don't give big bones that the dogs cannot chew them to pieces and powder them;also fish scales and bones because they might get stuck on their throats.

• India
28 Feb 17