What Happened???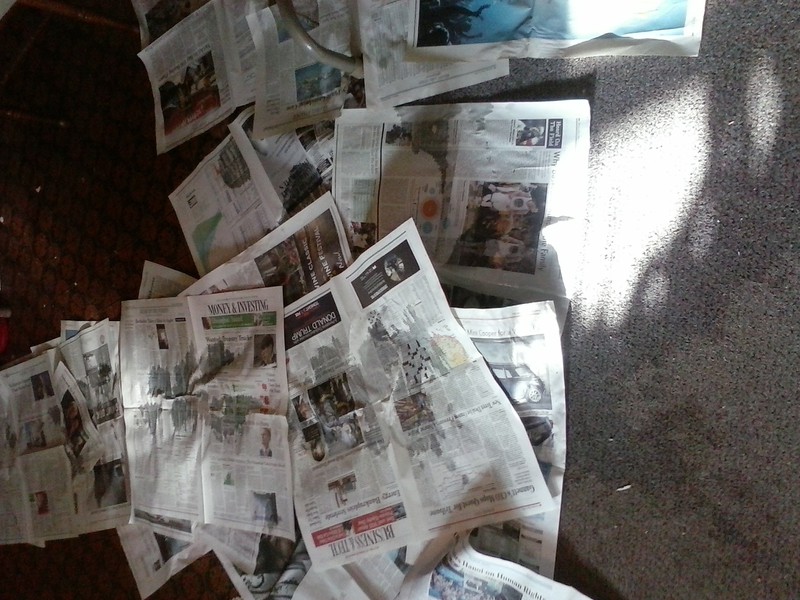 United States
March 1, 2017 2:40pm CST
Got done taking a bath and the hubby makes a comment about me in a good mood after taking a bath. I'm like yeah, I feel pretty good and I come to the kitchen to see this!!! Then I remember watching "Big Daddy" with Adam Sandler when the kid spilled the milk and he started crying. Sandler throwing newspaper on the milk!! Well, apparently this is my hubby's solution of cleaning up spilled milk as well!!

Oh, my goodness!!

We do have rags and a mop!!

~Peace~ picture is mine Scene from Big Daddy where the kid spills the milk......

Skip navigation Sign inSearch Loading... Close Yeah, keep it Undo Close Watch QueueQueueWatch QueueQueue The next video is startingstop Loading... Watch Queue Queue __count__/__total__ Loading... Find out whyClose TheGamingBros SubscribeSubscribedUnsubscr
6 responses


• United States
1 Mar 17
Absolutely, even use dirty towels to clean up the milk with!! Anything but newspaper!!


• Canada
1 Mar 17
Some men...lol that would make for an even bigger mess.

• United States
1 Mar 17
Exactly!! I start picking all the papers up and he says the papers haven't soaked up all the milk yet!!

I said that's good, otherwise "WE" will be pulling newspaper from the floor. As the newspaper dries it will stick like glue!!

• Canada
1 Mar 17
@STOUTjodee
om gosh. Sometimes they just leave you shaking our head.



• United States
2 Mar 17
@Happy2BeMe
here I thought mu kids were all grown up!!



• Canada
1 Mar 17
Lol... at least he tried. Hubby generally pretends that he didn't see it happen as long as it is small lol! Now a spill this big, I don't think even he would ignore. haha.

• United States
2 Mar 17
Oh, I know what you mean!! This "oops" was to big NOT to see!!


•
18 Feb
Maybe that was the first thing he saw and decided to use them and did not think of rags.

• Boise, Idaho
1 Mar 17
Yes, and milk begins to smell sour and really smells bad if it isn't cleaned up.