Gratitude Challenge Day #838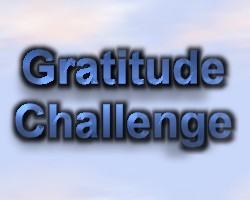 United States
March 7, 2017 10:30pm CST
Hey, everyone. I didn't post yesterday because I was catching up on my notifications and interactions, and things will probably be slow this week for the same reason. Butttttt, I'm here now, so let's get down to the Gratitude Challenge for today…. 1. I spent Saturday shopping with my best friend and her son. 2. I went to a baby shower on Sunday and watched WWE Fastlane at my brother's house. So I basically had a good weekend all around. 3. I ordered the WWE Extreme Rules tickets for my best friend and I; we'll be in section 223. :) 4. New Kids On The Block were on The Late, Late Show the other night, and they released their new single "One More Night" - with their EP "Thankful" to follow this May. :) 5. I enjoyed both WWE Raw and WWE Smackdown this week. 6. I'm doing good with my writing this week (so far). Okay, I'm gonna finish up my work so I can go lay down. You all have a good night/morning and take care. :) Photo Credit: I made this graphic using PhotoImpact 6.
4 responses

• New Delhi, India
8 Mar 17

• New Delhi, India
10 Mar 17

• United States
15 Mar 17


• United States
8 Mar 17
Extreme rules, is that the one in Philly? Sounds like a good weekend! Hope this week is just as good!

• India
8 Mar 17
Thanks for giving all your routine information. Good night and have a good dream.

• Philippines
9 Mar 17
Good for you! Extreme Rules is a favorite of mine. Although I miss the old ECW! Those were the days!

• Philippines
9 Mar 17

• United States
15 Mar 17
@allen0187
I miss WCW at times. Watching it on Saturdays after WWF Superstars...on regular TV lol.