5 Will Get You 10 Will Get You 500px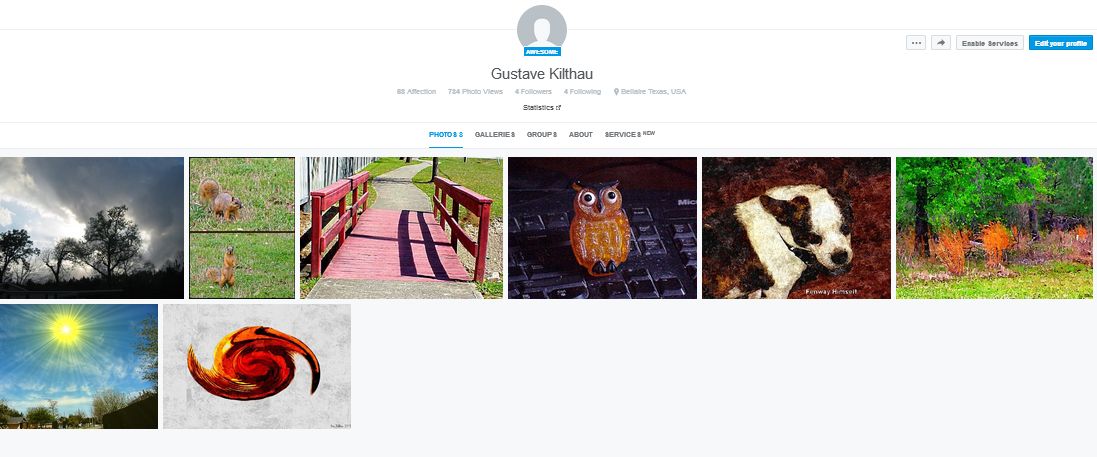 Goodfellow, Texas
March 18, 2017 8:09pm CST
5 Will Get You 10 Will Get You 500px - Many of you make all of the photos ( or at least some of the photos ) that you place atop your posts here on MyLot. Some of us who do that also like to see if any of our photos might "make the rounds" of the Internet, Finding the right place to stick those photos can be a difficult task, but there is one website that welcomes the photo work of just about any of us Mill Otters ( My Lotters ). It is the website, 500px.com. I have to admit that it is not the easiest website on which to get around. It would be a bit easier if the website designers over there did not get so fancy with their lettering in places such that the letter is light gray in color and hard for an old goat like me to read - but perhaps it will not be a problem for you. Our friend, @JudyEv has a great photographer as her husband - and he has a page or two over at the 500px website for some of his really super photos. I have put up several pix there, too. You are all invited to take a look at our "masterpieces," some of which have already been shown here on MyLot. The way to find our stuff is to type our names in on the query block (sitting atop the page in the center of the top line. My name is listed there as Gustave Kilthau and @JudyEv 's husband is listed over there as Vince Evans, There are many other photo contributors to that website, so, whenever you are through visiting here on MyLot, come on over and take a look at the good stuff you will find over on 500px. Image: Screenshot of my "Gallery" of a few pix I put up on 500px. http://www.500px.com
4 responses


• Goodfellow, Texas
19 Mar
@sharon6345
- Ms Sharon - From what I have seen of that website, you will not get lonesome over there. -Gus-

• United States
19 Mar
@Ceerios
I could not get on for some reason. It took me to an error page.

• Goodfellow, Texas
19 Mar
@sharon6345
- Ms Sharon - Instead of using the link(s) I put with my MyLot posting, simply type in the URL, which is 500px.com. That works for me. -Gus-


• Alicante, Spain
19 Mar
Thanks gus... what a great site... and like you said ... some beautiful photos



• Goodfellow, Texas
19 Mar
@sueznewz2
- Ms Susan - Right-on, Great websites are built by the visits of great visitors. -Gus-


• Goodfellow, Texas
19 Mar
@prinzcy
- If you enjoy looking at photos, this is a good website for that. -Gus-

• Bunbury, Australia
19 Mar
Well done. Great post and kind of you to share it with everybody and thanks for the mention too. You didn't say that it is possible to sell your photos from the site. Did you want to do that - mention it? It isn't important - just thought I'd mention it.

• Goodfellow, Texas
19 Mar
@JudyEv
- Ms Judy - Glad you liked the post. I wanted a good place to display some of the photos I make from time to time. and I do not think that anyone would want to spend money on any of them. As they said in the old country, though, "Only the cuckoo bird knows about that." Vince got into the act, too, because his photos over there on 500px are so very fine. -Gus-