Another One Overlooked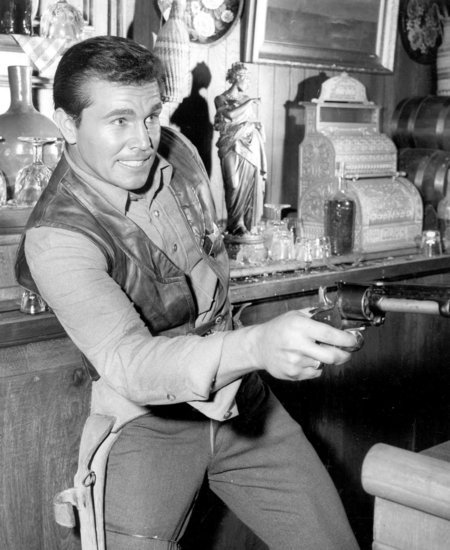 United States
March 25, 2017 9:32am CST
Some of my relatives introduced me to a lot of western shows when I was a child. They still watch the old repeats everyday and almost everyday.

When I was a child one of the show's that I really liked was "Wagon Train" and yesterday I was watching one of the eisodes that after all these years I do not remember whether I saw it or not!

And there was this nice looking actor sitting on a wagon and singing. I asked them who that man was and they did not know. So with my curiosity I picked up the remote and pushed the information button to find out the name of the episode. Then I found it on a search engine and looked up the cast. (I do this everyday at least twice!) And to my surprise I they did not know of him or the western show that he was in that ran for only two episodes in 1959 and 1960, Don Durant in Johnny Ringo. Researching more about this actor and singer I found that he did not have an easy childhood where his father had died in a truck accident two months before he was even born!

Then when he was 11 he was hit by a truck and was in a coma for a few days, had some physical issues that caused him to have some surgeries as well as being bed ridden for over a year. His mother got married three times while he was a child. One of his step father's owned a ranch after the divorce and despite his medical issues he endured has a child he was able to spend his summers at the ranch where he learned to shoot and ride!

He also played football in high school and even worked during junior high school as a deejay!

As an adult he joined the navy, but leave it to the government they screwed up the paperwork and he had to serve for awhile in the army.


After they straightened out the mix up he was able to serve in the army. After leaving the army Don sang the theme songs of the companies in commercials, sang in night clubs, acted in many western shows, appeared in many other shows. To earn extra money he also would teach other actors how to ride and shoot

He married Trudy Wroe in 1959 and they had two children Jeff and Heidi

In 1966 he retired early and made business deals and investments with their savings and became a multi-millionaire!!!!!!!!

He continued to communicate with his fan's as well as socailizing with his friends and former co workers. So how was this man overlooked?

Have you come across people that are celebrities that should be welknown especially by fans of their field and genre but are not?
4 responses

• Los Angeles, California
25 Mar 17
Durant passed away in 2005. I am familiar with Durant as he guest starred on many shows like The Virginian and Perry Mason etc which are still playing. He starred in an awful Roger Corman directed movie called She Gods of Shark Reef.


• United States
25 Mar 17
Had you heard of him before now?

• Los Angeles, California
25 Mar 17
@dfollin
Yes, I did. I watch a lot of old TV shows an movies. I am familiar with many forgotten actors.

• United States
25 Mar 17
@JohnRoberts
I am staying with my mom and uncle now that watch old westerns all day and evening. They watched all the shows when they were kids too. And it totally surprised me that they had never heard of him or that show. I even showed them pictures.



• Banks, Oregon
26 Mar 17
Yes in fact some of those unsung actors and singers i seek out to find there work as i find it sad they are not more well known.