Golden Opulence Sundae - costliest ice cream in the world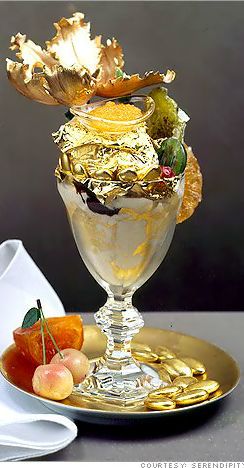 India
March 26, 2017 7:54am CST
Golden Opulence Sundae - this ice cream was a creation to celebrate the 50th Anniversary of Manhattan's Restaurant Serendipity-3. It contains 5 scoops and cost a whopping one thousand (1,000) dollars. It is on record that they do have customers and in fact there was an order for 15 such scoops for a 16th birthday party. The site has detailed about the contents of this ice cream 5 scoops of the richest Tahitian vanilla bean ice cream infused with Madagascar vanilla and covered in 23K edible gold leaf, the sundae is drizzled with the world's most expensive chocolate, Amedei Porceleana, and covered with chunks of rare Chuao chocolate, which is from cocoa beans harvested by the Caribbean Sea on Venezuela's coast. The masterpiece is suffused with exotic candied fruits from Paris, gold dragets, truffles and Marzipan Cherries. It is topped with a tiny glass bowl of Grand Passion Caviar, an exclusive dessert caviar, made of salt-free American Golden caviar, known for its sparkling golden color. It's sweetened and infused with fresh passion fruit, orange and Armagnac. I feel like eating one. What about you?

The Most Expensive Journal SEARCH by tom12536 Commentshttp%3A%2F%2Fmost-expensive.com%2Fice-cream-sundaeMost+Expensive+Ice+Cream+Sundae2006-12-21+04%3A27%3A37tomhttp%3A%2F%2Fmost-expensive.net%2Fice-cream-sundae The most expensive ice cream sundae in the w
6 responses


• India
26 Mar 17
I wonder if any myLotter would. I was just joking. (lol)

• Davao, Philippines
26 Mar 17
@allknowing
Haha. Maybe who can afford to taste it. lol

• India
26 Mar 17
@JustBhem
Who knows someone may give us a surprise (lol)


• Greece
26 Mar 17
I can't say I do, I prefer something simple and this sounds like a waste of money to me, especially when the news is about children starving for spoonful of rise.

• India
26 Mar 17
Atleast we got to know what extravagance is (lol)

• Greece
27 Mar 17
@allknowing
I have never been able to be extravagant so that feeling has yet to come my way, although relatively speaking my lifestyle is extravagant compared with life styles globally. I have my own home and income is steady.

• India
27 Mar 17
@41CombedaleRoad
You have arrived as they say. When one knows to identify that which one has but many don't that is the time one remains forever in the attitude of gratitude.



• India
26 Mar 17
I will have to sell Solitaire for that (lol)

• United States
26 Mar 17
@allknowing
How about splitting one, just for the experience? We each pay half.

• India
26 Mar 17
@DianneN
But I want that golden leaf



• Guangzhou, China
27 Mar 17
It looks so beautiful. However, I will enjoy it much more if the gold is removed

The gold doesn't have any taste and it is so thin. Although I heard it is not harmful or helpful to eat it. But I still think I'd better not to eat the metal inside my body, even if it is an expensive metal.

• India
27 Mar 17
Ofcourse I understand. You sure would buy it. After all we are myLotters who earn good here


• United States
26 Mar 17
I would enjoy eating one. I would have to share it with others due to all that ice cream.

• United Kingdom
26 Mar 17
I can think of much nicer things to do with $1000 dollars! It seems rather pretentious.