A day in the life of a French Bulldog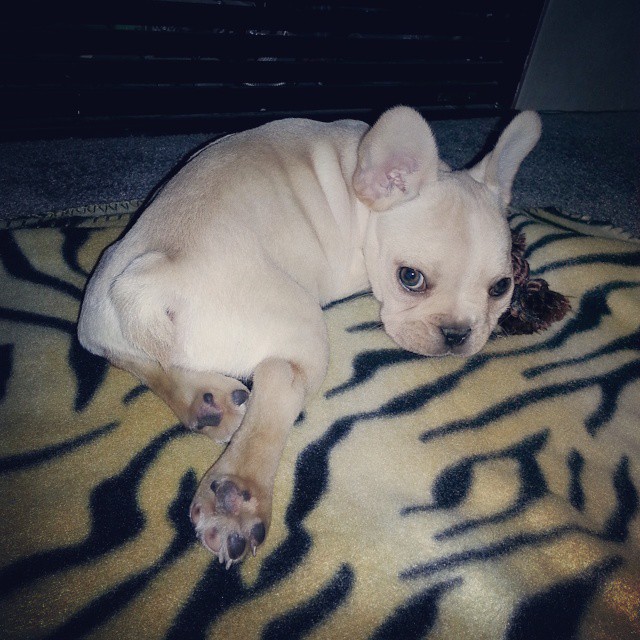 United States
March 26, 2017 6:17pm CST
"Ugh, 5:45AM already? But Mom, I really don't want to wake up... my bed is warm," I think to myself, looking tiredly up at my human Mommy, who is barely awake herself. She calmly rubs my head, gently trying to wake me up, but it makes me want to go back to sleep. She then slowly pokes me, and coaxes me out of my bed. I stretch, waking up my muscles from being curled into a bulldog ball all night, and perch myself up onto my Mommy's shoulder so she can carry me downstairs. Who has who trained here? We meander downstairs, and Mommy opens up my doggy door so I can go outside and do my business. I'm glad it's not cold out, that is the worst! First thing in the morning, having to go outside into the cold. Humans have it good! I come back in, and Mommy has my breakfast all ready to go, for whenever I feel like eating it throughout the day. She also gives me some fish oil, coconut oil, pumpkin, and a specially made treat for skin. Frenchies tend to have skin issues and sensitive tummies, and I am no exception. I happily eat the delicious yummies, and proceed to jump up onto the couch and settle back down. Mommy always straightens out the blankets so I can rearrange them and make myself a bed. I do some grooming while she gets ready for something called Work, and before she leaves, she turns on the picture box for me. She always puts on the MeTV channel, which is pretty boring if I do say so myself... but, maybe it's supposed to be so all I do is sleep all day! When I wake up, it's because I hear the sound of something called a garage door, and that means Mommy and Daddy are home from Work! Oh boy, I'm so excited to see them again! I wiggle my little nub of a tail as hard as I can, which means I just shake my whole rear end in happiness. Soon after they get home, it's time for their dinner, which of course means it's time for mine, too! I get the usual Dog Food, but before I dig in, I usually insist on trying whatever they're having. After dinner, I want to play! Mommy got me all kinds of toys, but she rotates them out so I don't get bored. My favorites are balls though, and one squeaky toy made special so that even when it's punctured, it keeps on squeaking! We play for a good long while, and when I'm done, it's time to lay on Mommy's lap and groom while she watches the picture box. Before long, it's time for bed again, and Mommy carries me up to my red cozy bed. I love my Mommy and Daddy so much.
5 responses


• India
27 Mar 17
Don't we all who have pets know who orders who. I have my Preiti who bosses me around and I kind of like it. Welcome to myLot. Just a suggestion. Next time you can break your posts into paragraphs so that reading becomes easy.

•
27 Mar 17
Reminds me of one of the dogs at my parents' place. He's also a French bulldog.

• Banks, Oregon
26 Mar 17
There is nothing like the love of a good pet