I popped in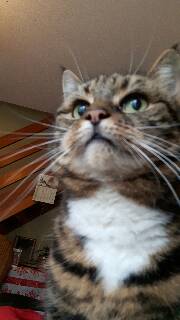 Oxford, England
March 27, 2017 5:28am CST
I am popping in because I guess one should occassionally make a contribution towards filling the dinner dish and I am Freya the Catblog Cat, after all. I will tell you about my ghastly experience with a grey Mousie. I keep it on the rug. It is a lovely grey Mousie and I often play with it. Yesterday, it jumped. Human 1 agreed with me it jumped on the bookcase and I looked and looked and could not find it. I decided to look very miserable and so Human 1 would look with me. We took the bookcase apart looking because I was frantic. I NEED my grey catnip mousie. Then Human 1 found it on a chest of drawers. Since then I have been ignoring it to teach it a lesson. Love from Freya, the Catblog Cat
6 responses

• Banks, Oregon
27 Mar 17
Freya i am glad you and human 1 found your mousie it needs to be taught a lesson

• Oxford, England
27 Mar 17
Yes. It is ridiculous for a catnip mousie to hide like that. Love from Freya the Catblog Cat

• Canada
27 Mar 17
So glad you found your mouse!! Good idea to ignore it...that will teach it!!



• Los Angeles, California
27 Mar 17

• Bunbury, Australia
27 Mar 17
Poor you! That is very sad that you lost Mousie. I'm glad you found it again. I'm sure it is sorry now. Ignoring it should teach it a lesson.

• Oxford, England
27 Mar 17
I forgave it but it was a really annoying mousie as it then got stuck under the sofa. Love from Freya the catblog Cat

• Bournemouth, England
27 Mar 17
You are indeed a strong-willed cat if you can ignore catnip. You could even lead a Catnip.Annonymous group for others who are still struggling. Meetings at 2am, obviously, due to your nocturnal habits.