Mother Nature's Surprise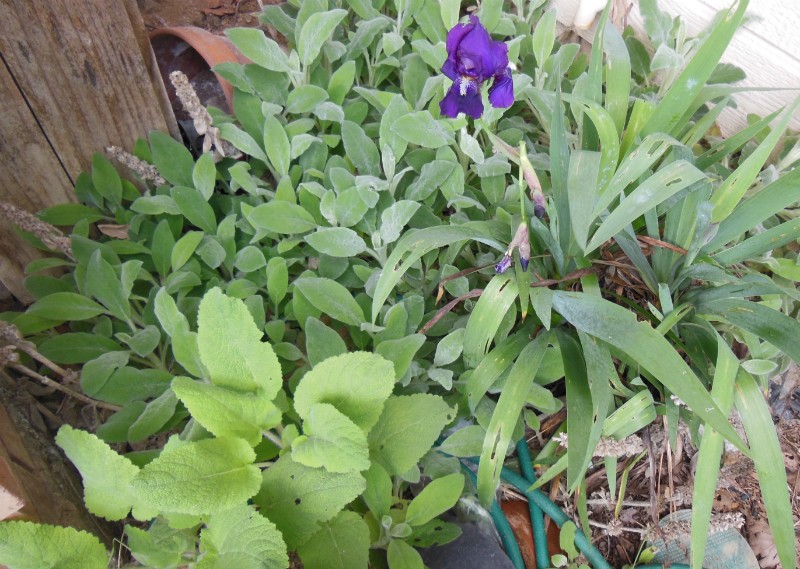 Paso Robles, California
March 30, 2017 2:24pm CST
If I've learned one thing since I've been gardening it's that Mother Nature has many surprises. What you see in the photo are all surprises. Anyone who's ever grown lamb's ears outside of a pot knows that it spreads. The shortest plants you see toward the back of the photo are the lamb's ears. I never planted any there. Mother Nature did. That iris? I didn't exactly plant it. I didn't see anywhere I wanted to plant a few tubers I had left over when I did my planting in 2013, so I threw them in a shallow box and covered them with just enough dirt to almost cover them so they wouldn't dry out. I had planned to share them or find a place to plant them and I never got around to it. Occasionally when it was hot, I'd water them to keep the dirt moist. When I walked outside yesterday, this iris was blooming. But that wasn't the only surprise. See the two tall plants with the large leaves at the front? I didn't plant those, either. They are both clary sage plants. The only clary sage plant I actually planted here lives in a pot about four yards away on the other side of a brick pillar and some tall shrubs and a bed of lamb's ears. I also have a few tiny clary sage seedlings growing my lawn near the mother plant and a couple of more mature children of the mother plant several yards on the other side of my lawn that bloomed this year. Lamb's ears spreading and reseeding doesn't much surprise me. Having irises grow and bloom in also no soil also seems within the realm of possibility. It's only now that I've learned by experience and in my herb book that clary sage reseeds easily. Many herbs don't. I thought this was one of them. I was wrong. Sometimes it's nice to be wrong. I am surprised, though, that the seeds sprouted and matured so far from the mother plant.
6 responses

• Bunbury, Australia
30 Mar 17
I love lambs' ears - and they are so well-named! I love the soft feel of them. These are all lovely surprises for you.

• Paso Robles, California
31 Mar 17
I love them, too, for the same reason. I actually don't mind their spreading unless they begin to choke or smother some other plant I want. They are a great ground cover.

• Bunbury, Australia
2 Apr 17
@bagarad
I don't think Mum found them that easy to grow. Perhaps the soil wasn't ideal.

• Paso Robles, California
2 Apr 17
@JudyEv
I'll bet she was able to grow plants I find difficult.



• Paso Robles, California
31 Mar 17
That's for sure! One thing that always amazes me is how the books make it seem so complicated to grow certain plants from seed and then the wind and the birds continually plant things that thrive.

• Paso Robles, California
1 Apr 17
@paigea
Exactly. The books tell you how to prepare the ground, how deep to plant the seeds, etc, and then somehow seeds that just land on the ground at the right time sprout. I think God must have a sense of humor.

• Paso Robles, California
31 Mar 17
I actually think it's the rain that made them thrive and gave them enough water this year to sprout.

• China
31 Mar 17
Many wild plants are able to thrive in appalling conditions.I have grown the iris that is a sort of herbal medicine,but have never seen the Lamb's ears ,which seem to belong to mint family (Lamiaceae).

• Paso Robles, California
1 Apr 17
It may be in the family, but it's not used the same way and I don't think it's edible.

• China
1 Apr 17
@bagarad
Lamb's ears aren't native plants of where I live,so I don't know what uses they have.

• Paso Robles, California
1 Apr 17
@changjiangzhibin89
I'm not sure they have any except decorative value and being nice to touch.

• India
30 Mar 17
I can actually feel your joy. Indeed Mother nature has many surprises for us. I am an avid gardener myself so I can relate to this. Good luck to you.

• Paso Robles, California
31 Mar 17
What are you favorite plants to grow?

• India
31 Mar 17
I love growing bougainvillea, hibiscus, roses, pansy and petunia. I also happen to have a small kitchen garden wherein I grow cherry tomatoes, coriander, mint, capsicum, a strawberry and spinach. I also think that Aloe vera is the best and easiest plant to grow.

• Paso Robles, California
1 Apr 17
@Blushandglow
You must have a large kitchen. I've grown roses, pansies, and petunias, but not the others. I'm not good with indoor plants, and I can't grow aloe vera here, unfortunately, because it gets too cold in winter.

• Midland, Michigan
31 Mar 17
Maybe some birds or the wind picked them up and dropped them there? I know that happens with the weed trees I've had aplenty.

• Paso Robles, California
1 Apr 17
I'm sure that's what did happen. We have a lot of windy days. I've never seen the birds on those plants, but that doesn't mean they weren't there.