Russian Scandal Much Bigger Than Watergate!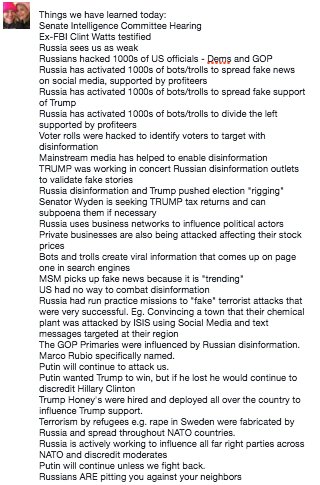 United States
March 30, 2017 3:39pm CST
I hope everyone is as worried about this whole Russian mess as I am regardless of political affiliation. Everyday there comes a new revelation, another person (or two or three) from the Trump Administration with ties to Russia or Putin. In this particular case I don't think there's much doubt anymore that the Trump campaign colluded with the Russians but just the idea that Putin was trying to influence our elections, and in this case obviously succeeded, and is doing the same thing as I write this to Germany and France is horrifying.
4 responses

• Redlands, California
30 Mar 17
I have not heard anything about Germany or France either, but would not surprise me any. I was reading something like 6 Russian diplomats have been killed since Trump was elected because they knew damming info regarding the matter or at least thought to The sad thing is this has to be the quietest big scandals in history and still think if it were Obama or Hilary, any big name Democrat, this country and much of the world would be blowing up even if it were not true, like this could not be true. The problem with this story is it will not go away and you know the old saying, where there is smoke there is fire.

• United States
31 Mar 17
It's getting bigger and bigger and even since I posted this discussion a lot has happened. Fired National Security Advisor has asked for immunity to testify, saying through his lawyer that he has "a story to tell" and I read some rumors on Twitter than Trump is considering RESIGNING! PLEASE, PLEASE, PLEASE, let it be TRUE!!

• Redlands, California
31 Mar 17
@anniepa
I hope that is the case also. It is good the truth seems about ready to come out.




• United States
31 Mar 17
I'm sorry, I should have made myself more clear. Russia has interfered in the elections of several other countries and there's intelligence that they're doing the same things in France and Germany as they did here. The scary thing is Putin wants to put people in office who will follow his agenda and who are against NATO and the EU, presumably to leave most of Europe defenseless against potential attacks by Russia.

• Charlotte, North Carolina
30 Mar 17
We never know these days who is telling the truth and who is boldly telling lies these days.