This Bag is Too Heavy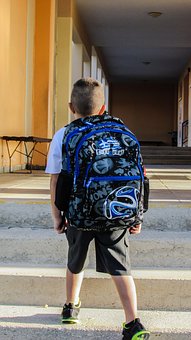 April 3, 2017 10:56pm CST
It is my foster son Kit's second day in the new class. I packed his school bag according to his time table. I also kept a "tiffin box" with light snacks and a bottle of water in the bottle holder. I found the bag to be painfully heavy for a lean child to carry. Kit protested but nothing can be done about it. It the way education is imparted in the English-medium schools in our country. Here are the child's thoughts in a poem taken from my blog - FAMILIAN - franxword.blogspot.com. I hope, it is permitted. Honorable Principal Sir, could you Please take some books out And make my schoolbag light Everyday, carrying this load to school On my back like a donkey Is an uphill task, a grueling fight! Eight periods on a class day mean Eight books and eight class work books Make the sachet weighty like stones And to add homework material on Imagine how my shoulders feel Can't learning be without breaking bones? Principal Sir, Can you turn schooling A little less painful, less burdened It makes me cry silent tears Who can I complain to; tell my pain? There are big heads so wise and grave They fill my little heart with fears! Thurs, March 16, 2017
5 responses

• Bunbury, Australia
4 Apr 17
We had school cases when I went to high school, not back packs and sometimes they were incredibly heavy.

• Philippines
4 Apr 17
That's something that kids had to put through going to school.

• India
4 Apr 17
The child feels but the powers that be do not. Nice poem.

• United States
4 Apr 17
They have bags here that the kids roll on wheels. No need for a backache