I sensed some smell inside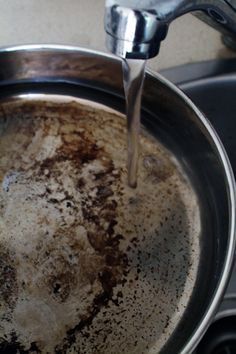 Hyderabad, India
April 4, 2017 9:10am CST
I returned from my lunch at 3.PM. There was no power. It was off as usual in Hyderabad which made it a sin to live here during summer. There I was getting some smell very strong in the corner. I recollected immediately that I forgot to switch off the stove. I kept it on the stove and forgot to switch the stove off. I went for lunch. The whole milk evaporated leaving only some black tar inside the container. Today there is no milk for me. I have to ask somebody if they can afford something for my morning coffee on a return basis. The container is totally broke. No chemical or detergent on earth can remove this tar. Better I throw it in a dustbin or handover it to garbage collection boy.
2 responses

• Thane, India
4 Apr 17
apply lemon and detergent hope so it will work

• United States
4 Apr 17
Hope you can trade for some milk tomorrow for your coffee. Unscented fabric softener sheets place in a pan with dish liquid and then allowed to sit for a few hours will often remove stuck-on substances.