Trying to start a Political debate against a celebrity is like a Social Network suicide.

Calgary, Alberta
April 7, 2017 3:54pm CST
Sami Zayn is the only WWE wrestler who is of Syrian descent. He represents Canada as a wrestler because that is where he grows up but he is proud of his Syrian roots. With what is going on with Syria for sure he will be worried because it is his heritage country. Out of Nowhere, there is this woman who decided to tag him on twitter on how she felt about the Syrian kids who died of the gas attacks. [b]She said that she felt no sympathy for for them because "they are destroying America" because of trying to be refugees.. [/b] Sami decided to printscreen her tweet and called her out, making her post viral around the world. She is forced to set her account to private because many people reacted to her nasty opinion. This woman claimed she loves God and she is Pro-life but she have no sympathy to children dying on a war. So I guess she only cares about children and babies if they are still inside their mother's womb. After they are born, she felt numb about them.
3 responses

• United Kingdom
7 Apr 17
She sounds like an absolute c word


• Calgary, Alberta
7 Apr 17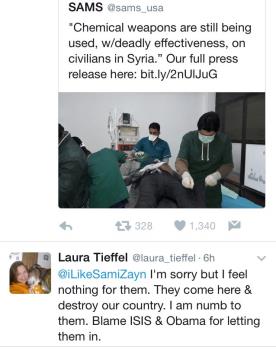 More wrestlers started calling her out. I have a feeling people are waiting for her to set her twitter account on public again after her post got immortalized.

• United Kingdom
7 Apr 17
@CaptAlbertWhisker
doubt she'd be that stupid again. She'll probably delete her account and come back under a new name.

• Calgary, Alberta
7 Apr 17
@Mike197602
I am not sure if she is dreaming or fame but she is famous now...

She can replace Tomi Lahren in the blaze.


• Guam
7 Apr 17
Maybe. Who knows?


• Calgary, Alberta
7 Apr 17

• Calgary, Alberta
10 Apr 17

• Philippines
8 Apr 17
Some people are just ignorant but I can't blame if they just get their information through the Bias media. But If she knew the other side of what's happening, or she's there herself maybe she wouldn't be saying those words.

• Calgary, Alberta
8 Apr 17
Those kids and their families are not even refugees that she is xenophobic about as they never left Syria to move to another country. I think she is kind of racist againts middle easterns and she is Islamophobic. If the muslim ban happened decades ago, USA wont have Steve Jobs who basically created a lot of Jobs and boosted the US economy because he is half Syrian. Some refugees became great Americans who did a lot for America. The only people who have right to ask for immigration ban are the Native Americans because they own the land. The Caucasians like her are immigrants from Europe.