The Folk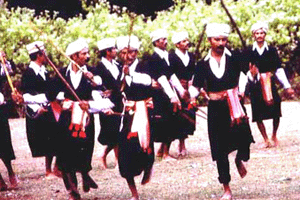 Bangalore, India
April 21, 2017 11:34am CST
Hey Friends, how was your day? My day was good. The weather is so cool out here. It rained for a while to quench earth's thirst. I can smell the soil and its aroma is so good. Today I am here to share some information about the ritual dances of my state "Karnataka". There are a number of ritual dances in Karnataka. These dances are also known as 'Folk dances'. Every region has its own particular dance forms. Let us start with Kodagu region, the region of greenery. The Folk dance here is known as 'Huttari Kunitha'. The Kodavas are a unique group who differ in customs. Traditions and religion from the surrounding populace and have an annual harvest dance. The men, dressed in traditional Kodava costumes with decorative knives, perform this dance to background music. This dance form has different varieties: Bolak-aat: Performed by Kodava men in back of an oil lamp in an open field. Ummatt-aat: Performed by Kodava women, with their tradition dress and jewelry. Komb-aat: While the other two forms are celebratory and festive, this is a religious dance that is traditional performed in temples(may also be performed in other places). So this is it for today and soon I'll let you know of the other regions too. Good night, sleep well. The image is of Huttari kunitha and its taken from google.
4 responses

• Canada
23 Apr 17
Sounds fascinating, I wonder if there are videos of the dances? Interesting I just looked and here is one:

Ummatt-aat Performed by Kodava women, who wear traditional Kodava dress with jewelry, adorn their foreheads with kumkuma and dance in a circle to a swinging ...

• Bangalore, India
23 Apr 17
You sure have done a lot of research on that, did you love the dance?

• Canada
23 Apr 17
@manasamanu
I did, and I found others too, I appreciate folk dances from all countries.

• Bangalore, India
24 Apr 17
@PainsOnSlate
That's nice



• India
22 Apr 17
@manasamanu
I've resided at Bengaluru for quite some time & I'm an admirer of Kannada Culture. Karnataka shows such beautiful diversity & thanks for sharing this!

• India
22 Apr 17
@manasamanu
don't thank me, thank you for bringing this topic!

• Bangalore, India
23 Apr 17
I am glad you liked it

.