. . .Not An Attribute Of A Virtuous Woman?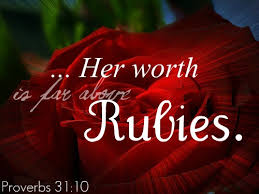 April 21, 2017 11:50am CST
While a woman may simply be referred to as the very opposite sex of a man 'A Virtuous Woman' however, is a different ball game all together if you ask me, selfishness for one out of hundreds of negative attributes is certainly not an attribute of virtuous woman, I kept wondering,what in your personal opinion are attributes of a virtuous woman?
9 responses


• United States
21 Apr 17
I agree - just like a virtuous woman is far different than a woman... a decent man is different than a man. The latter in both category is simply born, the former takes dilligence




• United States
21 Apr 17
She loves God most of all, loves and takes care of her family, helps the poor and homeless, and is generous and kind.

•
21 Apr 17
@1creekgirl
wow! Beautiful attributes, I guess you're a


proverbs 31 woman! Thanks a lot

• United States
21 Apr 17
@Sambriel
Thanks, I would love to be a Proverbs 31 woman, but I fall way too short.

•
21 Apr 17
@1creekgirl
you welcome! Rest assured you'll surely get there!



• Green Bay, Wisconsin
26 Apr 17
The best answer for that is Proverbs 31. It shows a virtuous woman isn't self serving, but serves. She takes care of her household and her husband. She is a blessing to her friends and neighbors. Is helpful to the needy. Has a generous spirit. Is a joy to be around. She puts others ahead of herself.

• United States
23 Apr 17
Well I think virtue to me is a giving spirit and gracious at the very least Sam. Just my idea of virtuous and what it means to me.

•
27 Apr 17
@TiarasOceanView
I see that's quiet insightful . . .thanks for sharing your amazing thought !




• Northampton, England
21 Apr 17
You should stop judging women or you'll almost certainly never get one.

• Kakamega, Kenya
21 Apr 17