What a wonderful lazy day ~~~ aaaahhhhhhh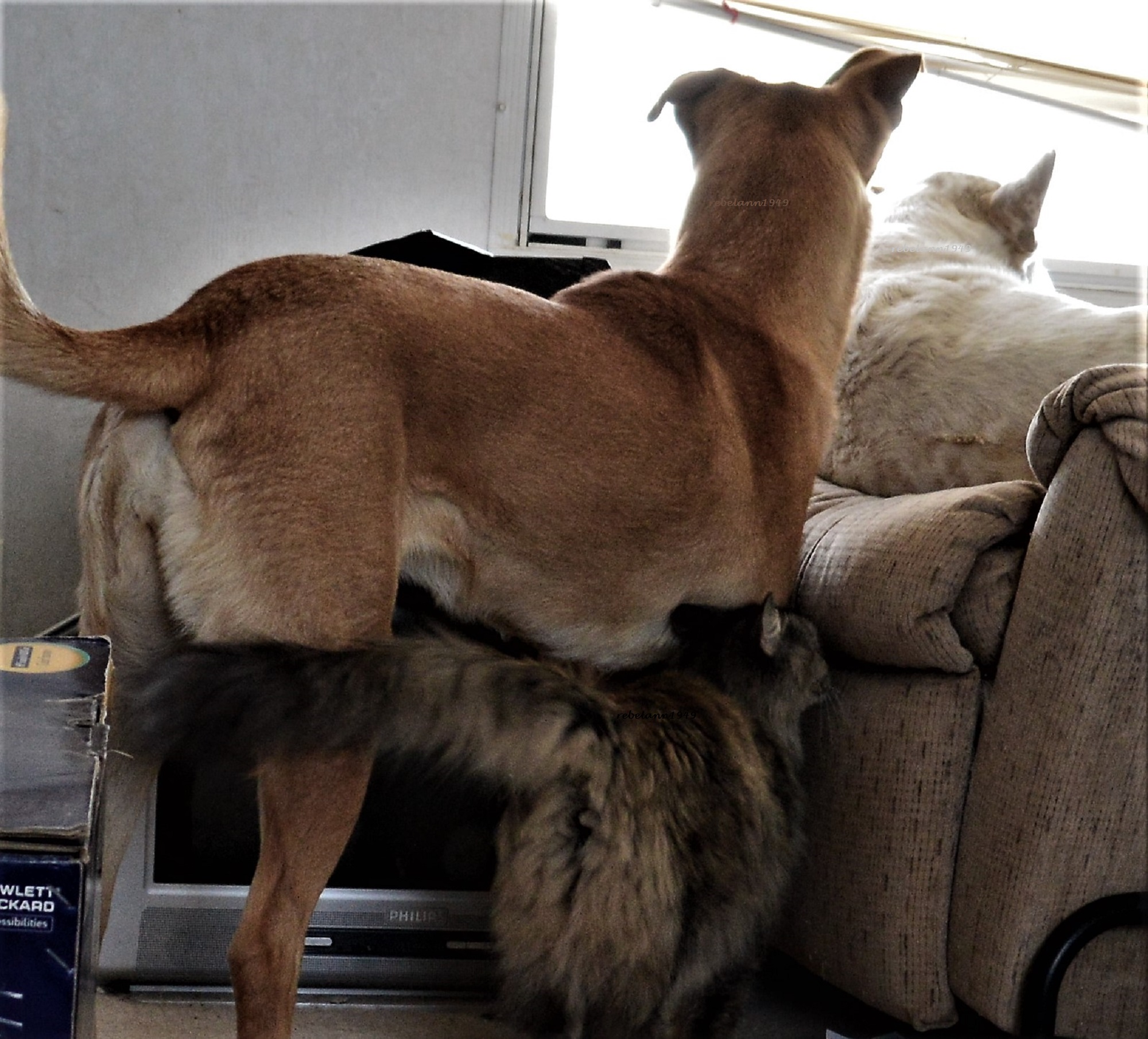 El Paso, Texas
April 21, 2017 5:34pm CST
This morning was wonderful, I woke up totally refreshed.

After my morning ritual

..... trust me, you don't want to hear about it

..... I meandered to the kitchen to heat the coffee I'd boiled yesterday, I had to add some water cuz it was really really strong

AAAAAhhhhh, that was nice, a good strong hot cup of coffee

Well, I fired up the PC then started going through some of my old shots, that's when I saw the one above. I never noticed it before but today I took a really good look at it

I can't believe I had already taken a shot of Boobear hugging Ally with her tail.

She does that so often and recently I thought I had to get a shot of it, now I found this one so it looks like I don't have to lay in wait for her to do that again ...... not that I would pass up an opportunity to take another but it's nice to know I have this one to share.

Now all I need to do is get lucky like some other folks around here and learn to use a zoom without shaking up the shot too much, as if that's gonna happen

Do you have pets? If so, do you have cats and dogs? Do they get along? Ok ok, I'll stop the 3 year old thingy

9 responses

• Canada
21 Apr 17
Another sweet picture. I have two cats. Sometimes they like each other and sometimes not so much.


• Canada
22 Apr 17
@rebelann
lol that is the way it is here. The younger guy torments the older one but then the older one will have enough anf tackle him. I always think of it as him being the little brother agitating his big brother.

• El Paso, Texas
22 Apr 17
I'm trying to have my cam ready and set on video mode when they get into it but that's so much easier to say than do
@Happy2BeMe


• India
22 Apr 17
I am sure you have met Preiti many times over. Yes she does like cats but needs time to get to know them.

• Charlotte, North Carolina
22 Apr 17
Pets, pets and more pets. A few of these and a bit of those-

• El Paso, Texas
22 Apr 17
Oh and what fun they are ...... when we're not cleaning up after them, right?



• El Paso, Texas
21 Apr 17
Actually they heard the dogs across the street barking so they were investigating if was worth begging me to let them out.

• El Paso, Texas
22 Apr 17
They didn't beg to go out
@HazySue
usually it's because the pups round here bark at cats or rabbits too and if mine didn't see them in their own yard they weren't interested. I'm in a rural usually quiet community and it's pretty much the same thing day in and out, I can always tell when the people from Jehovah witness are coming around. None of the dogs like them so the barks are much more fierce.



• El Paso, Texas
22 Apr 17
That is so awesome. Have you ever taken pictures of them?

• El Paso, Texas
23 Apr 17
Just add the photos to your next discussion for all to see
@Shavkat
people like pets..



• El Paso, Texas
22 Apr 17
Yes, I remember what you wrote. It does seem to me that Orville is meeker than Doodles though .... or was it the other way round?

• El Paso, Texas
22 Apr 17
You do love your kitties
@DianneN



• United States
23 Apr 17
No dogs or cats here. I have large Koi that are growing so fast. Its hard to believe they were little at one time.

• El Paso, Texas
24 Apr 17
I feel sorry for Koi, their life span is well over 100 years so what'll happen when you're gone?

• United States
24 Apr 17
@rebelann
One of my neighbors loves them, as they had a fish store many years ago. They take care of them when I travel, so either their daughter will take care of them or mine. It would be great, if both of them care for them, so as long as travel doesn't happen at the same time the fish could end up being willed a long time with excellent care.

• El Paso, Texas
24 Apr 17
I hope your kids will take care of them when you've passed on
@Fishmomma
I've actually heard that a lot of sealife lives almost 3 times longer than we do.

•
27 Oct 17
What a beautiful shot you got. I used to have a dog and a cat and they loved each other. The dog liked to protect the cat. They are both gone now and I have my Sophie which is a cat. I am not sure what she would call herself.