Who is Bahubali?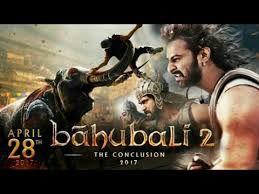 India
April 29, 2017 9:47pm CST
While the whole of India is thinking and dreaming of Bahubali I know nothing about it. I only came to hear of it when tv channels were bellowing out news on this movie that is considered to be the showstopper having amassed over a crore on the first day of its release. So much of hype and here I am just about getting ready to learn something about it Did you watch Bahubali?

Baahubali 2 - The Conclusion | Official Trailer (Hindi) | S.S. Rajamouli | Prabhas | Rana Daggubati, Baahubali 2 First Look | Baahubali Part 2 Trailer | Prabhas | Rajamouli | #Baahubali2FirstLook, Bahubali 2 first look Baahubali Conclusion (Bahubali Part 2
5 responses


• India
30 Apr 17
I must first know who is Bahubali (lol)

• Delhi, India
30 Apr 17
@allknowing
bahubali is the main character of the movie. He was nominated as a future king but was killed due to conspiracy and his son mahendra bahubali takes revenge.


• India
30 Apr 17
I watched the first one after all the hype was over. I have watched the trailer for the second one but not the movie ....yet.

• India
1 May 17
There is a lot of hype but I am told it deserves it.

•
1 May 17
@allknowing
Yes, it got rave reviews. I have it on my movie list to watch.

• India
3 May 17
@allknowing
The previous one was good too. I am sure this one will be too.


•
1 May 17
@allknowing
Yes, it appears to be so, sort of like an epic legend story.

• India
1 May 17
@allknowing
No,i have not seen the movie.But I have an idea of the storyline.

• India
1 May 17
I will not go to a theatre but I am sure it will be shown on tv. I will wait.