Facebook SuperCity Super Bingo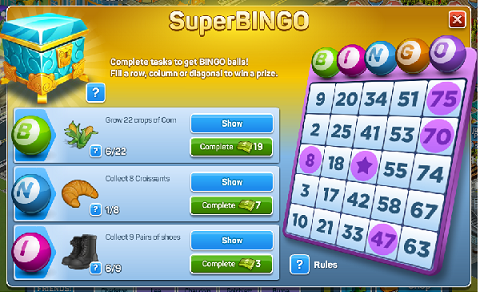 United States
May 6, 2017 10:00pm CST
If you like getting free bonus items for SuperCity then the new Bingo game will have you clicking away. You play it like regular Bingo but instead of a number being drawn there are three items that need to be collected. There is no tie limit on it and some of the prizes make it more than worth the time and coins to complete the Bingo board. Each time you get Bingo you get to open a treasure chest. I have only opened two so far and one contained 1,000 coins, 2 flowers, 50 goods, a single Superbuck and 20 energy. Some of the items you might need to collect include Roses (Flower Kiosk), Climbing Shoes (Shoe Shop), Roofing (Construction Factory), Envelopes (Subway Station), Corn (Farm), Croissants (Bakery). The latest card I played awarded me with a Hedgerow (flower), 10 XP, 7 energy and 24 goods. Once you complete a card you get a break (eight hours) before the next round starts. You get to pick from one of three Bingo cards but you can't see the numbers until you choose one of them. I think this is a nice addition to the game and gives legit players the chance to earn Superbucks and coins. Its impossible to say how long a game will take to complete; that depends on the numbers, what is being asked for and what buildings you have built.
2 responses

• Colorado Springs, Colorado
10 May 17
My girlfriend plays a bingo game online, but I don't think it's this one.