Favorite rainy day meal?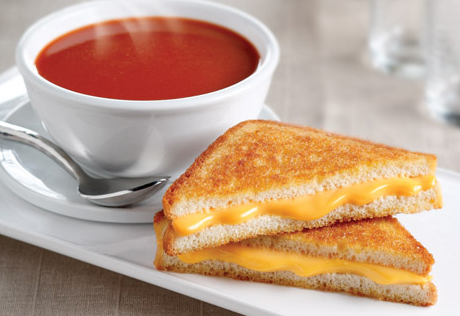 May 9, 2017 12:38pm CST
Photo from Campbells. Today is kind of rainy, normally on rainy days I make tomato soup (homemade) and grilled cheese. Not today though, as my husband requested sushi, so I obliged. I never really realized that it was my go to rainy day food until my 5 year old asked why that wasn't for dinner tonight. Does anyone else have a go to rainy day (or anytime really) meal?
8 responses

• Chile
9 May 17
We usually make a sort of fried dough for reint days in my country. They can be eaten with a sauce or with a syrup.

• Chile
9 May 17



•
9 May 17
I didn't realize I did until my 5 year old pointed it out lol

• New Delhi, India
9 May 17
I love eating bread rolls especially during rainy season

•
9 May 17
Yum! Bread rolls are good anytime. My grocery store has these small French rolls, with a little butter it's an awesome snack

•
9 May 17
On rainy days, definitely a big plate of macaroni cheese! And maybe some nice and warm rice pudding with ice cream for dessert.

•
9 May 17
Homemade or store bought Mac and cheese? No judgement, just curious.

• India
9 May 17
A cup of tea with pakodi (Indian snack) you can call it fritters..

• Samoa
23 May 17
I always love a hot roast duck or roast chicken soup for the rainy days.



• Toccoa, Georgia
11 May 17
I love tomato soup and grilled cheese sandwiches on rainy days and any day.