This is 15.00 hrs - had a disturbed sleep.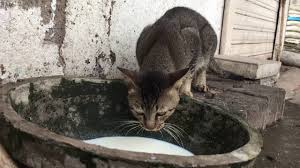 Hyderabad, India
May 15, 2017 4:37pm CST
Good morning friends. Today this is really a weird experience. For the first time, I could not get sleep. There was some disturbance during the sleep. I heard some noise in the kitchen. Got up and drove the neighbor's cat away from the milk. I forget to keep it inside and it was enjoying the milk. I waited for a while and allowed it to drink as no purpose will be served in throwing it away after it tasted it already. After it finished its job I drove it away and kept the bowl for a wash. Looked for the time. It was 300 A.M in the morning. I could not get sleep now. So decided to sit before the laptop. This I will compensate tomorrow. I will get up at 5.tomorrow. There is total silence everywhere. I am getting the sound of the ceiling fan. This is the only disturbance I am having right now.
2 responses

• Northampton, England
15 May 17
I struggle to sleep with any background noise. I hope you get a good night's rest.

• United States
15 May 17
So nice of you to let the cat continue to drink the milk. A very happy and full cat, for sure. Glad you can catch up on your sleep tomorrow.