Mother's Day 2017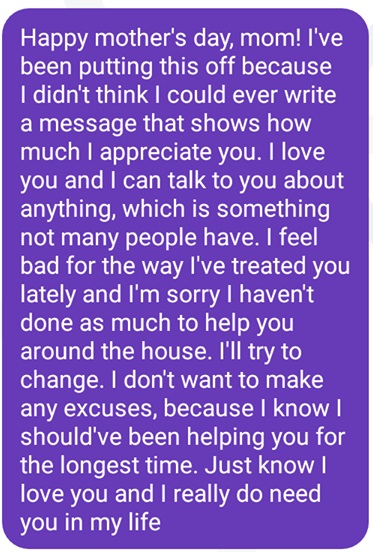 Hemet, California
May 18, 2017 6:10am CST
This Mother's Day was quite depressing. I was my 2nd day into a 5 day migraine, so I was immobilized on the couch pretty much all day. I didn't get gifts (I have 6 children) or anything like that. My 19 year old rolled his eyes and asked if I wanted a hug. I think my 16 year old daughter mumbled, "Happy Mother's Day" under her breath, but I can't be sure. She did watch the baby most of the day, because I couldn't, but she adores that baby. That was probably the closest thing I had gotten to a real gift. My husband worked the second half of the day, and I think he said "Happy Mother's Day" at some point, but I can't really remember that either. My 10 year old son and 4 year old daughter were told to tell me "Happy Mother's Day". It just hurts to feel so unimportant and unappreciated...I feel like I pour my heart and soul into their well being, and they don't care. I'm not unkind. I try my best to do everything they ask for. I don't hurt them or scream and yell at them. I try my best to love and support them through all kinds of weather. My 14 year old was at his dad's most of the day, and it hurt not hearing from him, because I'm closest to him. We get along fabulously and talk about everything. Then I got this beautiful text, and I cried. At least he loves me. He understands how much I love him. He is such a great kid. I know I raised him well!
3 responses

• Bunbury, Australia
18 May 17
It sounds a bit of a miserable Mothers' Day. Having a migraine wouldn't help either. It's a lovely message from your son.

• Genova, Italy
18 May 17
I, despite my 42 years, wanted to thank my dear mom, gift her a cabaret of fresh pastries and a greeting card, signed by me and my brother.

• Genova, Italy
19 May 17
@cpefley
Yes, I could made just what it was in my possibility

• Australia
18 May 17
Sorry to hear about your 2017 Mother's day. This is why I think of it as another day just to avoid from getting hurt (like you). Did you text your son back to tell him how you felt? A belated happy mother's day especially for you... Be happy..