It's Friday! Yeah! But What Does That Mean? (O.o)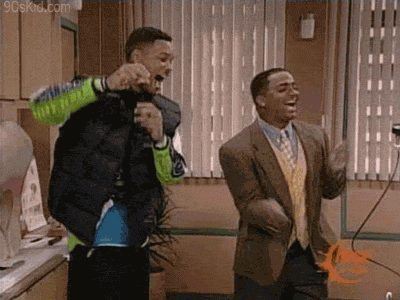 Austin, Texas
May 19, 2017 9:00am CST
Happy Friday everybody! When I was a kid I remember seeing a Coca Cola commercial on television. The young girl is sitting at her desk in a work suit – white blouse, black skirt, black jacket – wearing eyeglasses, sitting at her desk in front of a typewriter typing away, hair fastened into a neat tight bun – looking ever so proficient. Somebody indicates to her that the work day is over and she goes:
"Yeah! And it's Friday!"
She pushes back the chair on wheels from her desk, takes off her eye glasses, yanks at the back of her head to let her hair loose and shake it! Next scene is her strolling along in some area (looked like a beach ~ can't remember), dressed casual in her blue jeans, still wearing a white blouse, and drinking a bottle of Coca Cola. My late sister was watching that commercial with me and says, in her most boring monotone voice:
"So that's what Friday means?"


My late sister. Always one for being super enthusiastic and excited! (Not.) First of all, does anybody even remember that commercial? Secondly,
what does Friday mean to you?
~ Do you get to take yet another selfie and post it on Instagram? ~ Do you leave work to rush home and order a pizza and watch movies all night? ~ Do you go out partying and clubbing with your friends? For me? I get to go to the grocery store in the afternoon. In the evening, might watch a Bollywood movie or a Korean historical drama series. Will probably keep working on my laptop, while being entertained, trying to earn a few more pennies. Then go to sleep.


Yeah! But it's Friday!!



9 responses

• Hyderabad, India
19 May
Friday makes me very enthusiastic and I will work with vigor to enjoy my Saturday. Again my Sunday will be horrible as most of the members will be getting ready for their Monday work.

• Austin, Texas
20 May
Sundays are the best days of the week for me.


• Los Angeles, California
19 May
Friday meant something when I worked for obvious reasons. Now being retired, it has no particular meaning.

• Austin, Texas
20 May
I take your point. When I was working outside of the home and my kids were younger, Friday was a day to look forward to. But now it's just another day at the office.


•
19 May
Seeing I work from home I don't do anything much different on weekends. I get up at the same time - between 5 and 6a.m. and work as usual. When time allows I might go to the beach, - and I do look forward to two hours of my favorite soap opera "Generations" on Sundays.

• Austin, Texas
20 May
You're able to get up at 5 or 6 AM?? Those days are long gone for me. 8 to 8:30 AM is my earliest time to wake up these days.

•
20 May
@cmoneyspinner
I have been doing it since my son started junior school . There was a shift system at the school and he was in the morning shift which required that he arrive at school for 7a.m.

• Philippines
19 May
Friday is my time off and Saturday. It means payday to most but not me. RIP to your sister.

• Austin, Texas
20 May
Thank you. My sister has been gone for many years; almost 2 decades. But my memories of her are as fresh as today!

Friday is a good day to have off. And Saturday.


• Philippines
20 May

• United States
19 May
Love that gif up there Moneyspinner

I do not recall that commercial nope sure don't. RIP your Sister. Friday is no different much to any other day to me..yes monotone lol

But happy Friday to you too friend.

• Austin, Texas
20 May
Happy Friday back at ya! Thanks for mentioning my sister. I was unable to say Good bye to her. When she passed we were separated by miles in between two different states. Before I knew it she was gone. All I have now are my memories. But they are good memories.


• United States
20 May
@cmoneyspinner
Its sad when we are far apart like that, you are welcome friend. Thanks for telling us about her here. Happy weekend coming up to you.


• United States
21 May
Your sister's dry humor sounds like it was very entertaining. I don't remember that commercial, but then I probably don't remember many commercials. Fridays mean nothing to me. As a child it meant staying up as late as I wanted, and watching TGIF on ABC.

• Austin, Texas
22 May
Friday night was not a big deal when I was a kid. Saturday morning cartoons were the big deal!!

By the way, I got this thing about Coca Cola commercials. They're a part of my psyche.


• United States
19 May
I remember that commercial. Friday always meant freedom to follow when I taught. Now, I am happy on Friday since our son and his wife have days off from work.

• Austin, Texas
20 May
YAY! Somebody who remembers the commercial.



• Banks, Oregon
21 May
That commercial does sound very similar to ones I remember seeing as a child, of course pepsi has done many similar ones.

• Bunbury, Australia
20 May
Because we're retired it's sometimes hard to remember what day is it and Friday isn't too much different to any other day.