Our Jolly Cat Wants Some Milk Too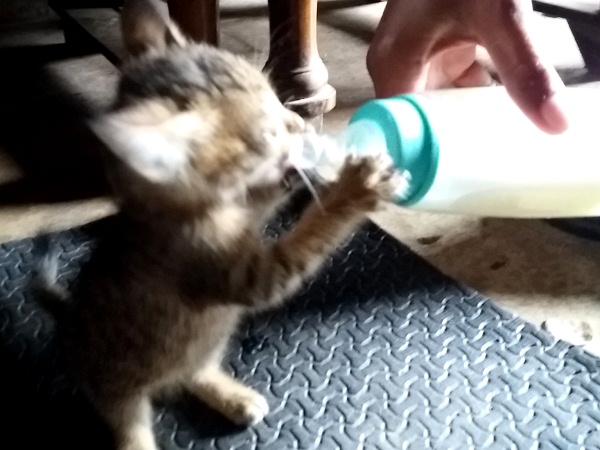 Philippines
May 21, 2017 6:23am CST
She just want to taste the milk so she slurp the milk. Yeah, she can eat already. The milk is intended for the baby goat but sometimes Chichirya (the kitten) want to have some taste which we let her suck the nipple. Chichi is so jolly kitten. She is so love by my kids and she really wants to feel our bodies and hands. Even our dog Happy wants her to play with always. The photo was taken awhile ago while my wife is feeding our baby goat. Lisa let her taste the milk. But after that she look for her food because prefer it than milk.
9 responses

• Germany
21 May
Oh so cute..I do love cats..I am planning to have my own



• Philippines
21 May
We adopt Chichi and its all because of my youngest child Lian.

• Los Angeles, California
21 May
Kittens are always so much fun.


• Philippines
22 May
kittens, or small animals should be fed with milk, maybe because they have no 'milk' teeth yet. heheh!

• Philippines
22 May
Actually the kitten is already feeding. He don't know how suck the nipple so she just slurp it.

• Philippines
22 May
@ilocosboy
really? newborn canines and felines, or any animal, should have the innate nature to suck and suckle.

• Philippines
21 May
Haha What a name! I thought your kitten eats chichirya (junkfoods)

So cute


• Philippines
21 May
The kids give the kid that name, I'm having hard time pronouncing so when I call her I just say Chichi.


• Philippines
22 May
Thanks, but actuallly there is another baby the she share the milk, our baby goat.