A Fidget Spinner App...Time to leave Earth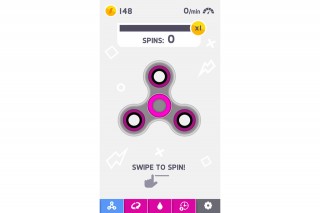 India
May 23, 2017 2:33am CST
While I'm not a fan of a fidget spinner,I can understand why people love it..It's a cute little time waster..(I personally want to have a Fidget Cube).. So I see this article about a fidget spinner app that's topping the App Store charts and my mind went,"Is this for real??Why is this app even a thing??"..Oh,the app has in-app purchases to removes ads as well.. I mean,wasn't the purpose of the fidget spinner to make people NOT see their phones for a while for entertainment??Or is it just me that's kinda annoyed on seeing this??
4 responses

• Dallas, Texas
6 Jun 17
See, this is why I try daily to ignore the growing idiocy of man.

•
5 Nov 17
When they came out in Israel someone asked why I did not have them to sell so after asked someone about them I got some and did not sell all so returned to the store.

• Fuzhou, China
5 Jun 17
Hello We are fidget spinners manufacturer based in China. Are you interested in becoming a wholesaler? If you are interested,pls contact me. This is our official website: You can browse first, and if you are interested, please contact me again. Thank you so much for your time ! Have a great day !