Need promotes Invention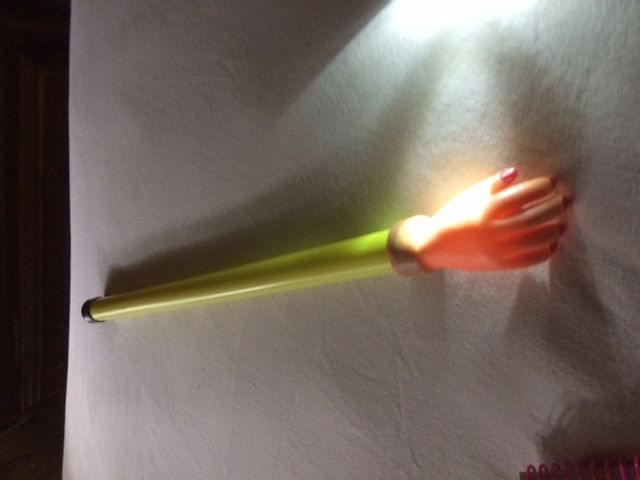 Holiday, Florida
May 23, 2017 8:36am CST
That old saying in my title is so very true! Since my disabilities I have relied on many things as my muscles seem to be practically non existent these days. I who ever invented this tiny real looking hand with the long reach I salute. Since I have no significant other these days, I have tested several back scratchers in my time. This is the only perfect one. hard plastic but not sharp. It also works well for pulling things toward me. had it for 15 yrs. The other day, daughter could not open a jar. I actually opened it for her!! lol. Remember some of my poor old granny's short cuts these days and see why she learned them. I popped the jars bottom with my hand a couple times, then ran hot water over the lid. got a good hold on it and it twisted right off easily. Can you think of anything you are glad you found or learned that makes things easier to do?
5 responses

• United States
23 May 17
Well, if I do not have the right tool to perform a task, I can always find something that will do just as well. My husband says, "You can make a tool out of anything."

• Holiday, Florida
23 May 17
he is quite right there. lol

• United States
23 May 17
@bunnybon7
I pounded the white nails that line the gutters, or whatever those nails happen to be called, that pop out a bit in winter due to being loaded with snow using a small, long-handled push broom. My husband always uses a ladder and a hammer. Silly fellow!

• Holiday, Florida
23 May 17
@Corbin5
what a great idea. you are very wise with that

• United States
24 May 17
great to hear that'cher makin' 't, hon. gigglin' o'er the jar :) i'm particularly fond 'f those grabber thingies myself. where's i used to be able to get down to fetch schtuff, now'days i find i can't get back'p so those come'n mighty handy. big hugs!!

• Holiday, Florida
25 May 17
oh yes. i too am times unable to get back up. there are mornings i do good to even get out of bed but i must. no matter lol in fact i probably need one of those things you are talking about since this hand on my stick don't close. any recommendation on brand?

• United States
25 May 17
@bunnybon7
i've not recommendation'n a brand, hon. but, make sure ya get a sturdy one, some're quite flimsy.

• Holiday, Florida
26 May 17

• United States
26 May 17
Wow at first I thought that was a joke item, but, I do see how that could actually help with a number of tasks. I know I love those rubber jar grippers to twist lids off

• Holiday, Florida
26 May 17
actually it was a joke item when i got it. it used to make a moaning sound which my dogs barked at. but my grand baby when she was 2 yrs. played with it a while and took the bottom out and removed the noise maker lol. about 10 yrs back

• United States
24 May 17
I have bamboo tongs to get things out of the toaster, I love them

• Holiday, Florida
26 May 17
never thought of that. great idea

• Goodfellow, Texas
27 May 17
@bunnybon7
- Ms Brandy - My own experience was that I could become "inventive" if I got emotionally involved in a project. One time I became angry - and out popped a patent. Another time I became amused and the same thing happened. Both times, it amazed me. -Gus-