Do you like to use the vacuum bags to pack your clothes when you have a travel?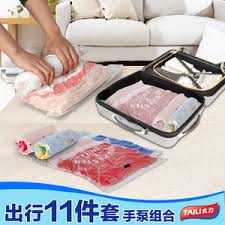 Guangzhou, China
May 26, 2017 3:43am CST
I remember when we had a travel to Russia at the first time, since it was cold there and therefore we had to bring more clothes. But it would make the luggage so full and I needed to buy something when we returned from the trip. So I got a good idea. I used the vacuum bags to store all of our clothes and it was very helpful. I just needed to bring a little machine to vacuum them again when we returned. After that, it is my style to pack the luggage like this way when we travel to cold places.
10 responses


• Philippines
26 May 17
Yes..it is very helpful for us..give us more things to carry



• India
26 May 17
Never tried, as never traveled to cold place

• Philippines
26 May 17
I seldom use them when I travel but whenever I have an available pack at home then I use it.

• Holiday, Florida
26 May 17
i used some of those once. large zip locks work also with atr pushed out before you zip them

• United States
26 May 17
I have used them in the past but not recently.

• United States
26 May 17
I have never used them. I travel very lightly and either wear all my cold weather clothes on my person and only a small bag. I do not need a lot, but for those who do, those are ideal.

• Delhi, India
26 May 17
I have not heard about vacuum bags or packing the bags without vacuum. It sounds interesting.

• Bunbury, Australia
26 May 17
That's a great idea. I am having trouble packing all I need and vacuum packing would be ideal.

• Boise, Idaho
26 May 17
Vacuum bags would be a good idea. Get all those big and bulky coats and sweaters in the bag. Good idea.