Daily Bible Study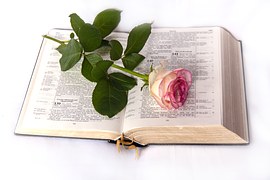 Green Bay, Wisconsin
May 27, 2017 9:09am CST
Day 260 Proverbs 24:7 Proverbs 24:7 Wisdom is too high for a fool: he opens not his mouth in the gate. 8 He that devises to do evil shall be called a mischievous person. 9 The thought of foolishness is sin: and the scorner is an abomination to men. 10 If thou faint in the day of adversity, thy strength is small. 11 If thou forbear to deliver them that are drawn unto death, and those that are ready to be slain; 12 If thou say, Behold, we knew it not; doth not he that ponders the heart consider it? And he that keeps thy soul, doth not he know it? And shall not he render to every man according to his works? Wisdom and foolishness are opposite sides of the same coin. Wisdom brings life and what is good to your life, while foolishness brings want and death. The psalmist said, hiding God's Word in his heart kept him from sin. Yet thoughts of foolishness are sin. Psalm 119:11 Thy word have I hid in mine heart, that I might not sin against thee. (KJV) James said thoughts lead to death. James 1:13 Let no man say when he is tempted, I am tempted of God: for God cannot be tempted with evil, neither tempts he any man: 14 But every man is tempted, when he is drawn away of his own lust, and enticed. 15 Then when lust hath conceived, it brings forth sin: and sin, when it is finished, brings forth death. Foolishness doesn't stand a chance against God's Word. Evil cannot hope to take a foothold when wisdom is present. God knows every thought you think, every action you make, every word you speak. Nothing is hidden from God. He is the one you will face on Judgment Day. He will weigh everything you did and reward you according to your thoughts and actions. Revelation 20:11 And I saw a great white throne, and him that sat on it, from whose face the earth and the heaven fled away; and there was found no place for them. 12 And I saw the dead, small and great, stand before God; and the books were opened: and another book was opened, which is the book of life: and the dead were judged out of those things which were written in the books, according to their works. (KJV) You don't want to be considered mischievous or foolish. As Christians, you want your life governed by wisdom so that evil has no place to stand and must flee because God has hold of your life. Galatians 2:20 I am crucified with Christ: nevertheless I live; yet not I, but Christ lives in me: and the life which I now live in the flesh I live by the faith of the Son of God, who loved me, and gave himself for me. Satan must flee because he cannot stand in the presence of God. James 4:7 Submit yourselves therefore to God. Resist the devil, and he will flee from you. (KJV) When God is your strength you will never faint, or grow weary in whatever task he has called you to do. Isaiah 40:28 Hast thou not known? Hast thou not heard, that the everlasting God, the LORD, the Creator of the ends of the earth, faints not, neither is weary? There is no searching of his understanding. 29 He gives power to the faint; and to them that have no might he increases strength. 30 Even the youths shall faint and be weary, and the young men shall utterly fall: 31 But they that wait upon the LORD shall renew their strength; they shall mount up with wings as eagles; they shall run, and not be weary; and they shall walk, and not faint. Philippians 4:13 I can do all things through Christ which strengthens me. Let God be your strength today. Let him take hold of your life so you will be all you can be and not be as the foolish who will die in their sin, believing all the lies Satan told them. Let's pray: Father, be my strength today. Give me wisdom to do what you called me to do and keep all the schemes of Satan far from me. Let your Word sink down into my soul so that nothing Satan does, will take root in my life, but he must flee as I submit myself to you. In Jesus' name, I pray, amen. Copyright © 27 May 2017 by Valerie Routhieaux Image courtesy of Pixabay
3 responses


• Green Bay, Wisconsin
29 May 17
Yes, he is and we should, but not everyone does.

• Green Bay, Wisconsin
29 May 17
@Nawsheen
We can only pray for the eyes of their understanding to be opened.

• United States
30 May 17
Those words--Take root, are so vital. We can make mistakes, but it is important not to let them take root in our lives. If they take root, they start to grow and grow, and that is when the problem areas get tangled.

• Green Bay, Wisconsin
31 May 17
Yes, they do. Best to get rid of the problems before it roots.

• India
27 May 17
yes we should ask God to overcome all the lies of satan .