Good Saturday Afternoon!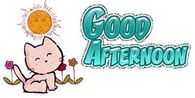 United States
May 27, 2017 11:30am CST
Hello mylotters and good afternoon/evening depending on where you are in mylot land. How is your long weekend going so far? Mine is going pretty good. Last night I went to my nephews baseball game and brrr it was cold. It was misting rain, windy and cold but we survived until the game ended at 8pm. Got home at 9pm packed some clothes and headed to my boyfriends. He had chili ready for me made so we had some dinner then we watched the first pirates of the Caribbean movie as were going tonight to see the new one. Went to bed about 1am. I came home at 1130am this morning as my boyfriend had to go into work for half a day. I will be going back to his place once he gets back from work. So for now I am showered for the day and just going to relax and mylot as much as i can. I hope you all enjoy the rest of your weekend. Photo Credit: lovethispic.com
8 responses

• United States
27 May
Enjoy the movie! I've only seen the one Pirates of the Caribbean

• United States
27 May
@marilynda1225
thanks i enjoy those type of movies so i hope this one is just as good

• Roseburg, Oregon
27 May
I hope you have a good weekend with your boyfriend.

• United States
27 May
@jstory07
thanks so far it's been great. It's been nice having a quiet house without his parents and brother there.

• Cuyahoga Falls, Ohio
27 May
Sounds like you had a good time in spite of the rain. Have a good one.

• United States
27 May
@kristenH
yes it was a good time. We haven't had a good spring yet as it's been raining all the time. Hopefully next weeks baseball game will be a bit warmer and not rainy again.

• Canada
27 May
@Blondie2222
Our Spring here where I live has been the "pitts".

• United States
27 May
@marlina
yeah i think it's the same every where


• United States
27 May
Sounds like a good weekend so far. Enoy the movie tonight.

• United States
27 May
@courtlynn
thank you hopefully he doesn't work too late and we can go

• Los Angeles, California
27 May
You have a big weekend going on thus far.

• United States
27 May


• United States
27 May

• United States
30 May
@diannen
it was a great weekend just getting home monday night at 945pm. I didn't want it to end.

• United States
30 May