Overthinking -A tornado inside the head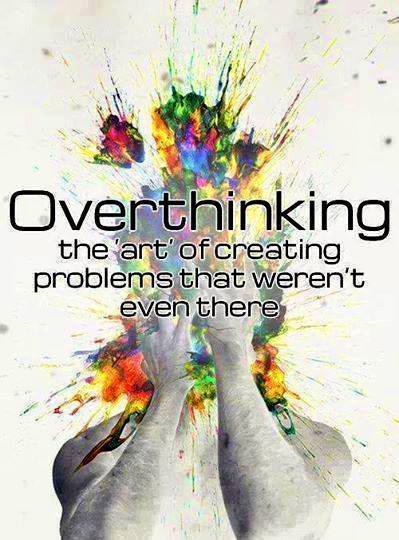 Mauritius
May 28, 2017 11:06am CST
There are many people who tend to over-think about things that have already happened or that have not yet happened. Many have described over-thinking being similarly to a tornado spinning inside their head. Escaping from this tornado can be very difficult and challenging. Even I overthink at times too. However I do know someone who is constantly worried and thinks too much and this has been affecting him badly.  Do you know people who are over-thinkers?
8 responses


• Gurgaon, India
29 May 17
I am a relaxed person and I don't overthink about anything, if there is a problem I try to find the solution... Overthinking affect our health very badly.

• Gurgaon, India
29 May 17
@Nawsheen
you are right. Even many physical problems are results of emotional and psychological disorders.

• Mauritius
29 May 17
@Bodyandbrain
that's true. And those are the worst disorders ever and can totally destroy someone



• India
29 May 17
I have had this issue, but now try to remain calm yet sometimes when I am free I think ............I think more than required

• Mauritius
29 May 17
@spaceseed
if you have some hobbies those might help

• India
30 May 17
I used to be that way once upon a time. It took me a while to change but I have changed.

• United States
28 May 17
Thinking like that, can rob you of your life. There's enough to think about as it is.

• United States
28 May 17
A famous psychiatrist called this "imagination on fire." When I over-think, I remember that phrase and stop the over-thinking.

• India
28 May 17
Yes I know such people. Even after explaining them everything, they again go back and stop at the same point..and worry about certain things .. difficult to tackle such people