Homeopathy or Ayurvedic or Allopathy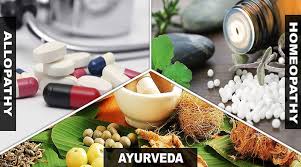 India
June 2, 2017 1:30pm CST
As we have three options to heal our sickness. I want your suggestions, what you will prefer from homeopathy,ayurveda or allopathy to cure our sickness? 1.Homeopathy - In simple words, it means that any substance, which can produce symptoms in a healthy person, can cure similar symptoms in a person who is sick.

For example - An onion is a substance which makes your eyes water and your nose burn. If you are having an attack of hay fever with watering eyes and a burning nose, a homeopathic remedy made from onion can relieve it. 2. Ayurveda - Ayurveda has eight ways to diagnose illness, called Nadi (pulse), Mootra (urine), Mala (stool), Jihva (tongue), Shabda (speech), Sparsha (touch), Druk (vision), and Aakruti (appearance).Ayurvedic practitioners approach diagnosis by using the five senses. For example, hearing is used to observe the condition of breathing and speech. sometimes it's more helpful to cure any disease permanantly. 3. Allopathy - a system of medical practice that aims to combat disease by use of remedies (as drugs or surgery) producing effects different from or incompatible with those produced by the disease being treated. I want your suggestions on basis of price,sideeffects and if any more things about this.
4 responses


• India
3 Jun 17
Thanks for good suggestion. I thought that all may be aware of these terms. I will Explain these things surely


• India
3 Jun 17
@nomus24g
is there any reason for selecting homeopathy?

• India
2 Jun 17
I prefer none, won't suit my body..