Marsha's Log: Two Birthdays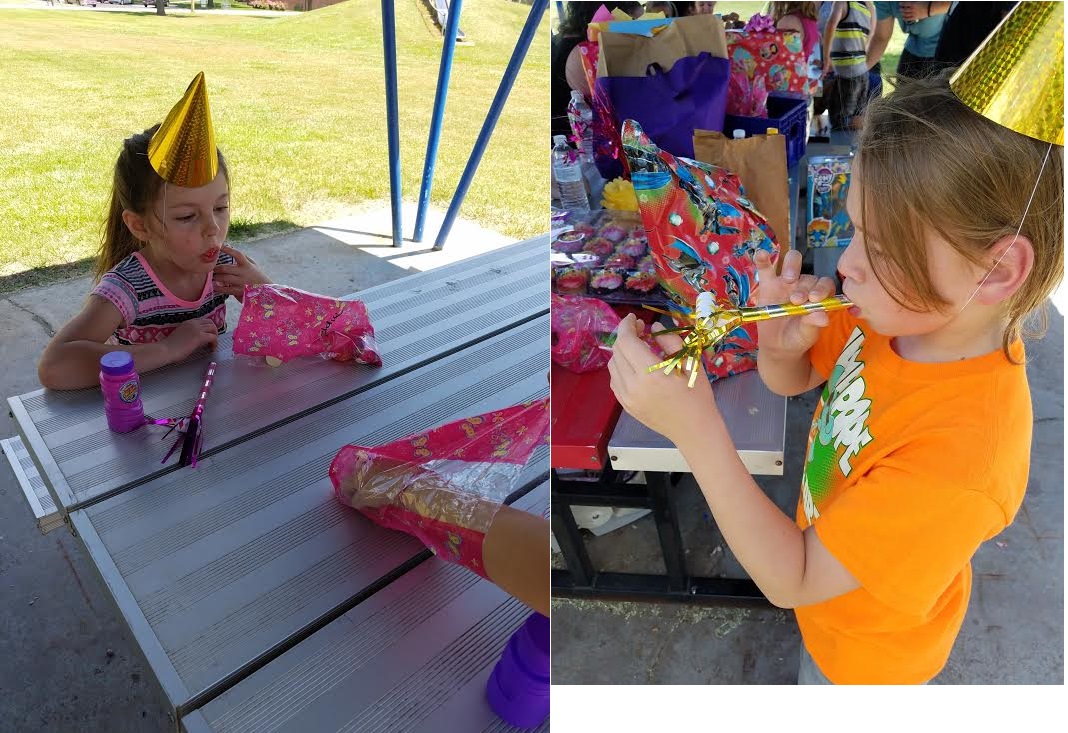 United States
June 6, 2017 12:10pm CST
I survived the rummage sale at church minus a couple or so cracked ribs.... We didn't sell much. We might be up to $100 is all after some members of church bought some things after church. Sunday was my usual.....church, nap, work online. Yesterday was Zelda's birthday. We headed to their town for a party in the park. It was a super nice day for a party. She invited school friends so she ended up with lots of nice gifts. She is now 6 years old. Jacob's birthday was actually last Friday. I had bought him some gifts, but otherwise we didn't do anything special for him. Sunday I gave him my gifts after church and he got his special large birthday cupcake from the church. Grandma Donna brought him her gifts to Zelda's party and Aunt Heather had a group of gifts for him too. He is now 8 years old. Right now I'm closing up things on the computer and will pack it all up and head to Heathers where I will be babysitting from then and clear through Friday. Wish me luck!! I hope everyone's been doing well since the last time I was here. I will hop around a bit before closing down.
9 responses

• India
6 Jun 17
Two birthdays in a house, that too near by dates is fun .. hope children enjoyed a lot

• United States
6 Jun 17
later this month is my middle daughter and one grandson....then August all 3 of the older granddaughters have birthdays.

• Anniston, Alabama
6 Jun 17
Have a wonderful day Marsha

• United States
6 Jun 17
At my daughter's now and my computer and devices are all set. It's pretty easy here because no one can call for rides since I am out of town.

• United States
6 Jun 17
Sounds like even though the Yard Sale was not the Best, the birthday parties were fun.

• United States
7 Jun 17
The worst part about the rummage sale is that all of the stuff is still in the church basement until I have time to pack it up. I should have asked if anyone could volunteer to come in this week while I am out of town and box it all up.

• Daytona Beach, Florida
6 Jun 17
Well glad both Zelda and Jacob had great birthdays. Best of luck with babysitting.

• United States
7 Jun 17
It sure would go better if this one neighborhood girl didn't think she also lives here all day too. LOL

• United States
6 Jun 17
We weren't there to celebrate Jacob's but it worked out that we could get his gifts to him then. I feel really bad that my daughter didn't give him a party :(


• United States
7 Jun 17
Much longer week than usual to be here. We are about to head to their tiny grocery store to see if there is anything Zelda wants to spend her birthday money on.

• United States
6 Jun 17
Wishing you the best of luck at Heather's place. So glad the birthdays turned out well.

• United States
7 Jun 17
I survived yesterday but there is this one neighbor girl that I would really just prefer not also be here all day. She's only a year older than Zelda, but she only seems to like to do things she knows she shouldn't.

• United States
7 Jun 17
@marsha32
That does put an extra burden on you.

• Roseburg, Oregon
6 Jun 17
Children s birthday parties are really fun to go to.

• United States
7 Jun 17
Most of the parents of her school friends also stuck around during the party so it was nice to get to know some of the other parents a little better.

• United States
8 Jun 17
You have lots of birthdays to celebrate. Do you have any months with none?