A Moth-Eaten Discussion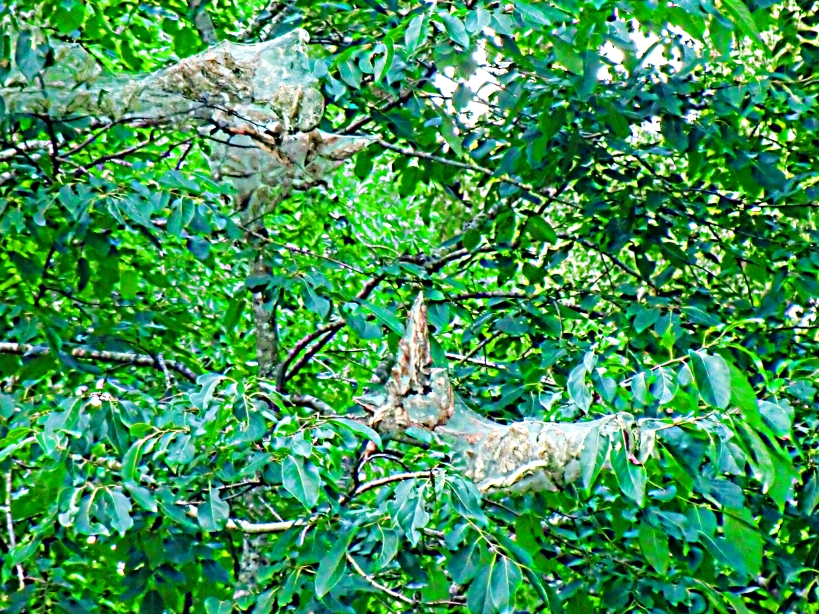 Goodfellow, Texas
June 10, 2017 12:01pm CST
A Moth-Eaten Discussion - Have you ever stuck your hand into one of those sticky. clingy, bug-crawly moth nests that moth critters weave around tree branches - just waiting there for you to stick your hand into them? Sometimes those moth nests can get to be really huge. They may go from branch to branch - and it seems like it only takes a day or a night for these nests to expand. I saw a tree one time that was almost totally covered by giant moth netting - sort of like an umbrella that the daylight could shine through. It was full of creepy-crawly bugs that were just waiting to get all over me if I were not careful about where I stuck my fingers. Today, as I zipped along the pathway on my 1-mile-per-hour electric scooter, I looked up at one of the trees by the long, gray fence. Sure enough, there were two big moth nests in that unlucky tree. When they get through eating that tree, I wonder if they will call it a day - or will they try to take on the tree next door. I would bet on them having an appetite for the next green tree. Image: Sticky Moth Nests - Gus Kilthau
2 responses

• United States
10 Jun 17
Wow yeah I have Gus but did not know it was moths. Not any as big as that however. An excellent photo! They like to eat huh? Like locusts.

• Goodfellow, Texas
10 Jun 17
@TiarasOceanView
- Yes indeed. Those moth critters are eating-crazy bugs. If it doe not pour down rain today, I may go take a look to see how big their nests have become. -Gus-

• United States
10 Jun 17
@Ceerios
You think it may rain there today?

• Goodfellow, Texas
10 Jun 17
@TiarasOceanView
- Those who reside in South-East Texas would all be wise to expect rain any and every day. Sometimes it rains. Sometimes it does not rain. -Gus-


• India
10 Jun 17
Lol.. obviously they will have an appetite on next green tree..they won't stop

• Goodfellow, Texas
11 Jun 17
@prashu228
- Howdy Heman - AND (obviously) you are 100 per cent correct. -Gus-